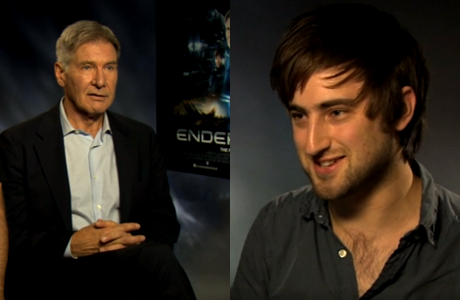 As part of their job, movie stars are called on to travel the world taking part in press junkets, press conferences and for a handful of journalists, sit-down, one-on-one interviews. We stress the word job, having been to many junkets, as actors sometimes find it a chore answering the same questions over and over. But, if that's the biggest complaint, then things aren't so bad.
With that said, Yahoo UK Movies' editor Orlando Parfitt sat down with Harrison Ford, who is promoting his new movie Ender's Game, and Parfitt tried to change things up asking questions that may not have been already asked.
While it'd be nice for Parfitt to find out new news, another thing that might get under actors' skin is when the interview goes off topic rather than talking about the project they're working on at the moment, in this case, Ender's Game. Parfitt jumps ahead to Star Wars and Ford gets a little "sleepy", acting out his boredom.
Well, he is an actor.
Parfitt, in very British style, prefaced the question with a question saying, "Are you getting annoyed yet with everyone asking you Star Wars questions?"
Ford didn't answer the question but his head dropped, his eyes were closed until Ender's Game producer Robert Orci nudged him saying, "Wake up, wake up."
Ford came to and stated, "I'm here to talk about now."
Rather than breaking stride, Parfitt holds strong, attempting to pay Ford a compliment, saying, "You know, it's kind of interesting, to have this constant, looming thing in the future that everyone is wondering about …"
His voice trickles off and under his breath he finishes up softly saying, "… that people are super excited about."
We get why Parfitt turned shy when we see that Ford is just staring back at him with blank eyes.
The thing is, rather than quitting while he's behind, Parfitt goes in for more, suggesting Ford is "grumpy." He says to the actor, "I have another question, that may relate to what just happened, does it make you grumpy when people describe you as 'grumpy'?"
If you'd like to see Ford's reaction, you can go here.
We don't want to get on Harrison Ford's bad side, so, of course, we should mention that Ender's Game is hitting U.S. theaters on November 1. The futuristic action film also stars British actors Sir Ben Kingsley and Asa Butterfield, who starred opposite each other in 2011's Hugo (but we digress). 

What do you think of the back-and-forth exchange?
See more:
Benedict Cumberbatch, Harrison Ford Play Coy About 'Star Wars' Film on 'Graham Norton'
Sir Ben Kingsley (and Friends) Makes Surprise Visit to Secondary School
'Hugo's Asa Butterfield and Sir Ben Kingsley to Reunite in 'Ender's Game'
Read More
Filed Under: