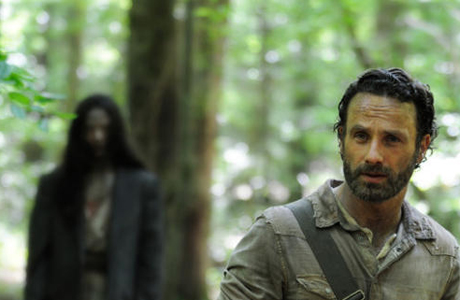 British actor Andrew Lincoln returns in the much-anticipated fourth season of the The Walking Dead, which premiered on AMC on October 13, 2013, as Rick Grimes. We give Lincoln credit for surviving the zombie-infested community for so long. Maybe he watched Simon Pegg and Nick Frost's zombie survival guide: Danger! 50,000 Zombies.
BBC Culture examines fans' undying love and why zombies are so popular. If you're looking for something to munch on in between new Walking Dead episodes, these British TV shows and films featuring zombified storylines should tide you over. Gnaw on these:
1. 28 Days Later
An ominous virus spreads throughout the U.K. and four weeks later, things get a little freaky. There is a small population of civilians (Cillian Murphy, Naomie Harris, Christopher Eccleston, Brendan Gleeson) who have been able to avoid exposure and the mass destruction that followed.
http://www.youtube.com/watch?v=eunaclr-WgU
Watch 28 Days Later on Amazon Instant.
2. In the Flesh
This isn't your typical zombie-meets-hatchet story with Kieran Walker (Luke Newberry), along with thousands of others who have risen from the dead, going through rehabilitation with the plan to reenter society.

Watch In the Flesh on Amazon Instant.
3. Shaun of the Dead
Shaun (Simon Pegg) is having a crap day. He's sick of his dead end job. His relationship with his girlfriend is dying. He feels like he's walking through life zombified. Things turn around for him when he meets some real, live (well, actually not live) zombies and he's forced to become the man he always knew he could be. Of course, with the help of his partner-in-crime (Nick Frost).
Watch Shaun of the Dead on Amazon Instant.
4. The Woman Eater
In this cult classic, an ambitious scientist, some might call him mad, comes across a tree that can restore life … or so he believes. The only catch is that the scientist needs to feed the tree, so he begins kidnapping women. Yup, the sap does in fact bring people back from the dead but they aren't quite living.
Watch The Woman Eater on Amazon Instant Prime.
5. Being Human
Life's hard and being human might be considered overrated to some … well, that may be the answer if you ask a ghost (Lenora Crichlow), a vampire (Aidan Turner) or a werewolf (Russel Tevoy). In the third season, the monsters-turned-mates get an injection of zombie juice.
Watch Being Human on Hulu.com.
What's on your playlist? 
See More: 
WATCH: 'Downton Zombey' Takes 'Abbey' to World of 'The Walking Dead'
WATCH: Karen Gillan's 'Walking Dead' Skin Care Ad for 'Nerdist'
'Walking Dead' Brits Andrew Lincoln and David Morrissey Ask the Big Questions
Read More
Filed Under: