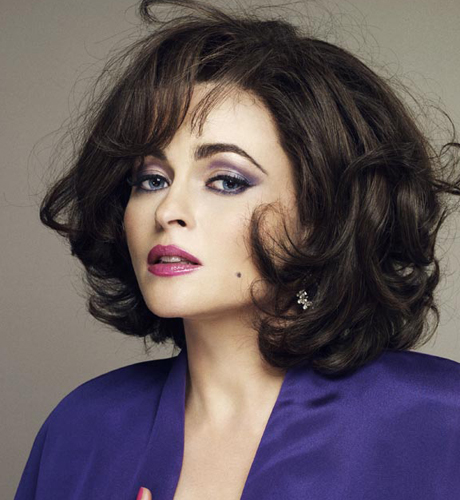 Helena Bonham Carter takes on yet another demanding role, portraying the London-born iconic actress Elizabeth Taylor in the upcoming made-for-TV film Burton and Taylor. The biopic depicts the tail end of Taylor's relationship with ex-husband Richard Burton (Dominic West), who she married twice and twice-divorced. We're looking forward to viewing the film on BBC AMERICA, premiering on Wednesday, October 16 at 9/8c. In the meantime, let's take a peek at some of Carter's standout roles available online:
1. The King's Speech
Bonham Carter successfully tackles the portrayal of The Queen Mother, who unbeknownst to her husband King George VI, goes to a speech therapist (Geoffrey Rush) to seek his aid in helping her husband with his stutter, which could be debilitating at times.
Watch The King's Speech on Netflix.
2. Fight Club
The first rule of Fight Club is that we can't talk about Fight Club. Okay, fine, we'll break the rule a bit. We can at least tell you that Bonham Carter played the girlfriend of Tyler Durden (Brad Pitt), who teams up with a dissatisfied office worker (Edward Norton) to form a … we've said too much already!
Watch Fight Club on Amazon Instant.
3. Sweeney Todd: The Demon Barber of Fleet Street
Husband Tim Burton puts his spin on the classic tale of a barber (Johnny Depp) and his business partner (Bonham Carter) who are just trying to make a living. Well, we may have skimmed over the part about the barber slitting his patron's throats and, err, his colleague making them into savory pies. Besides that, they make a great team.
Watch Sweeney Todd on Amazon Instant.
4. Big Fish
Fancy that, Big Fish was also directed by Burton. If it's not broken, why fix it? Bonham Carter plays a prophetic witch who lives in a swamp, scaring all the children when removing her glass eye. We meet her in a flashback as William Bloom (Billy Crudop) retells a fantastical story he's begrudgingly heard his whole life, told to him over-and-over by his father Edward Bloom (Albert Finney and Ewan McGregor).
Watch Big Fish on Amazon Instant.
5. Toast
In this autobiographical story of English food writer Nigel Slater and his upbringing in England's West Midlands, Bonham Carter plays his wicked-ish stepmother who really is only guilty of trying to befriend the young boy. Their unspoken rivalry lands Slater and his father's new wife in the kitchen, where they compete for his father's (Ken Stott) attention through his stomach, unintentionally resulting in Slater honing his culinary skills.
What's on your playlist?
See more:
WATCH: Helena Bonham Carter in the 'Great Expectations' Trailer
Helena Bonham Carter Relishes Playing "Weird Women" 
Brit Binge Watching: Five Dame Maggie Smith Films to View Online 
Read More
Filed Under: