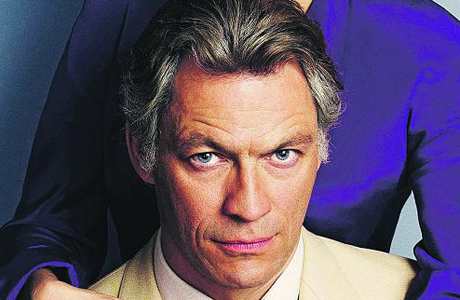 Dominic West is one of those actors who just oozes masculinity, as we've seen in his tough guy persona as Detective Jimmy McNulty in The Wire and as the charming, yet two-timing, TV personality Hector Madden in The Hour (both available on Amazon Instant). He's a guy's guy, a dude, a bloke … in other words, a perfect choice to play the boozer, cigarette smokin', ladies man Richard Burton, who is addicted to all things bad for him including love, in the upcoming premiere (10/16) of Burton and Taylor opposite Helena Bonham Carter. Let's take a peek at some of West's earlier work available online:
1. 28 Days
West portrays an enabling boyfriend in the gutting story of an out-of-control alcoholic (Sandra Bullock) who lands herself in rehab. He's faced with the dilemma of giving up his relationship or taking a backseat to the fast life.
2. The Awakening
In this horror film, set in 1921, West plays a teacher at a boarding school who seeks the help of an author and expert in supernatural phenomenons (Rebecca Hall), after a student dies and other unexplainable events take place. 


Watch The Awakening on Netflix.
3. Mona Lisa Smile
In Mona Lisa Smile, West plays Bill Dunbar, a teacher at the conservative all-women Wellesley College in the 1950s. He finds himself interested in the new art history teacher (Julia Roberts), who is already engaged to be married. And, of course, to complicate things, he's busy avoiding the advances of an oversexed co-ed (Maggie Gyllenhaal).  


Watch Mona Lisa Smile on Netflix.
4. From Time to Time
A 13-year-old boy (Alex Etel) realizes he can travel between two times, the 1940s (his present) and the 1700s, where he meets a cast of characters including ghosts played by West, Hugh Bonneville and Eliza Bennett.
Watch From Time to Time on Netflix.
5. Hannibal Rising
In this prequel to the Hannibal Lecter series we meet a young Lecter (Gaspard Ulliel) who is forced to watch his sister murdered and cannibalized by Nazi soldiers who are lost and starving. Inspector Pascal Popil (West) has no idea what Lecter is capable of, as first witnessed in Silence of the Lambs, but he has his suspicions.
Watch Hannibal Rising on Amazon Instant.
What's on your playlist? 
See more:
Snapshot: 24 Photos of Richard Burton and Elizabeth Taylor's Romance
Brit Binge Watching: Five Helena Bonham Carter Films You Can View Online
10 British Things About Balitmore, MD (The Wire was filmed there.)
Read More
Filed Under: