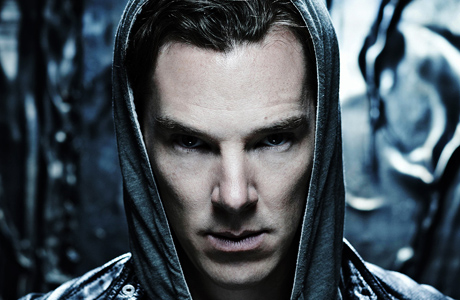 Busy Benedict Cumberbatch is at it again, starring in two films coming out tonight (10/18), including The Fifth Estate and 12 Years a Slave. While to some, Cumberbatch may seem like an overnight success with his title role in Sherlock but in actuality he's been at this ol' acting thing for a while, making his mark on the industry. Let's take a peek at some of his earlier films available online:
1. Star Trek Into Darkness
Cumberbatch takes on the role of Captain Kirk's (Chris Pine) archenemy John Harrison. Even though his common household name may not come across as terrifying, Cumberbatch warns us that Harrison is someone to be reckoned with saying, "He's a terrorist. He acts a terrorist. He has extraordinary physical powers, but also mental powers." 


Watch Star Trek Into Darkness on Amazon Instant.
2. Atonement
Cumberbatch is affectionately compared to the adorable otter, because of his unique looks. But, in this gutting wartime film, he's a slithering snake (with a moustache). His character Paul Marshall owns a chocolate factory and is doing quite well for himself financially. During the summer of 1935, he attends a dinner at the Tallis home where he creeps around, handing out chocolate bars to young, impressionable girls.
Watch Atonement on Amazon Instant.
3. Wreckers
Cumberbatch takes on the role of a young man named David, who hopes to start a family with his wife (Claire Foy). The two of them move back to David's hometown but their plans are interrupted when his younger brother Nick (Shaun Evans) unexpectedly shows up. David tells his wife, "He pushed our mum down the stairs when he was a teenager." His wife's only response was, "Oh my god, why?" She doesn't want the brother in their life but David wants to look after his little brother, like when they were kids. 


4. Tinker Tailor Soldier Spy
In this espionage film, which takes place during the Cold War, British Intelligence ("The Circus") suspects there is a mole within the agency. The higher-ups recruit Peter Guillam (Cumberbatch) to head the hunt and sniff out the mole. Guillam finds himself on a close-to-impossible mission of removing a file from "The Circus" reading room, which may reveal the Russian spy who is posing as a top ranking British official. 


Watch Tinker Tailor Soldier Spy on Amazon Instant.
5. Inseparable
In this short film, we get Cumberbatch with a side of Cumberbatch. He takes on two roles, as Joe, a young dad who learns he is dying; and Charlie, a drifter who sees an opportunity. He tells the story with little to no dialogue. The two meet up, one is clean-cut and the other shabby, and it makes us wonder, "What could these two Benedicts be up to?"
Watch Inseparable on Amazon Instant.
What's on your playlist? 
Read More
Filed Under: