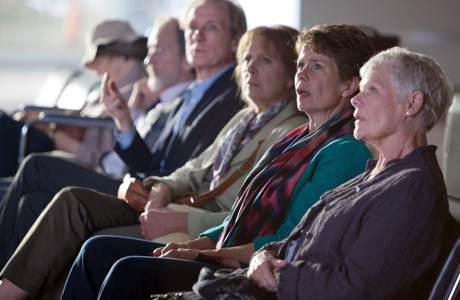 The Best Exotic Marigold Hotel, a story about a group of British retirees moving to India, must have clicked with audiences as a sequel has been confirmed, reports Radio Times.
The ensemble cast was originally made up of Judi Dench, Bill Nighy, Maggie Smith, Tom Wilkinson and Penelope Wilton.
Wilton had a chat with Radio Times, confirming most of the gang will be returning to India to begin filming, saying, "We had a wonderful time shooting this film the first time and I am thrilled we will be going back in January to do another one. As far as I know everybody will be returning." One actor won't be making the trip … but we don't want to spoil the plot for the first film by saying why.
The Best Exotic Marigold Hotel was a film adaptation of Deborah Moggach's 2004 novel These Foolish Things.
Ol Parker, who wrote the first screenplay, is on board to pen the sequel.
Did you see the first film?  
See More:
A Who's Who Guide to 'The Best Exotic Marigold Hotel'
Brit Binge Watching: Five Dame Maggie Smith Films Available to View Online
What's the Most Disgusting Word You Could Say to Dame Judi Dench?
Read More
Filed Under: