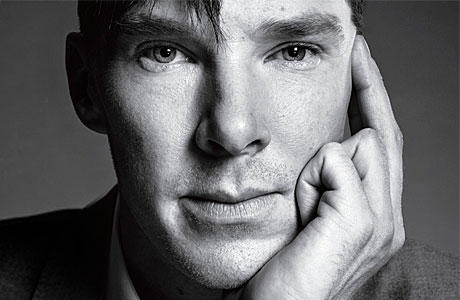 OK, I hate to break this to you, but it's just possible that your secret love for Benedict Cumberbatch is being shared by some others. I can't be sure of the numbers – could be as many as nine, could be as few as three – but there are definitely some other people who adore Benedict as much as you do.
And the evidence for this is his appearance on the international cover of TIME magazine, in which he wore his own, very smart clothes, and yet still looks a bit tousled and kind of, y'know…
Which probably see a spike in the numbers as high as 12, or possible 17, especially when people see the cover in full.
By the way, here is the full cover, shot by the eminent photographer Paola Kudacki:
Speaking to TIME, Paola explained that with Benedict, you need to be able to see two things: "I wanted to capture the intensity of his face but also the quietness. I wanted to take a serious approach, very quiet, and intimate."
"He's looking into the camera, very confidently, but there's something kinda broken. It's kinda like when he says he likes to bring humanity to the character.
"I think he's very respectful of the characters he's playing."
And if you're wondering why his hair is messy, she did that too, and he let it stay there just long enough for a couple of shots, before putting it back in place.
She continued: "I was very excited because his career has been so big but it's just beginning"
And there's even a behind-the-scenes video of the shoot, which is entirely without words because, y'know, cameras:
See more:
Busy Week Ahead for Benedict Cumberbatch as Two Movies Open
It's Official: Benedict Cumberbatch and Emma Watson Own Sexiness
Five British Stars: Five Near-Death Experiences
Sherlock Holmes Gets His Own Touring Exhibition
Read More
Filed Under: