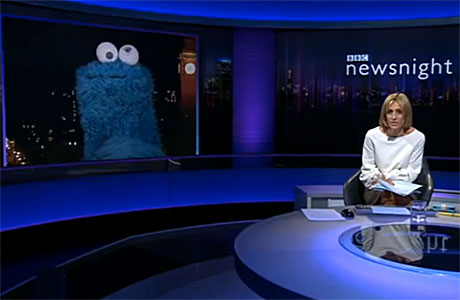 It's tricky to work out who should be the more honored to appear with whom in this situation.
Last night, on the BBC's most serious, least frivolous, most argumentative current affairs show Newsnight, the news of a drastic turnabout in the corporation's ability to attract the top grade talent was broken with due solemnity, as one would expect.
Fresh from an interview with the president of Afghanistan, presenter Emily Maitlis was on hand to deliver the momentous news that there will soon be Muppets appearing on the children's channel CBBC, in a new show called The Furchester.
And, as she so often has before, she turned to a guest, in order to give them a proper grilling, and it was Cookie Monster. 
As befits the status of the great beast, he arrived with no fanfare, expected no special treatment, and when it came to catering, he had only one trifling request.
Can you guess what it is?
Which should tell you all you need to know, except the The Furchester is about a family of monsters who run a hotel, and Elmo is in it too.
See also:
Game Of Thrones: Massive Dragon Skull Found On Dorset Beach
10 Extremely British Baby Names for Girls
DON'T WATCH: British Man Films Himself Hanging One-Handed From A Crane
Leeds Is Invaded By Curious Blue Phone Boxes
Read More
Filed Under: