British street artist Banksy is currently hosting a one-month exhibit in NYC, entitled "Better Out Than In", with the streets of NYC acting as his gallery.
Two pieces of art have already been spotted: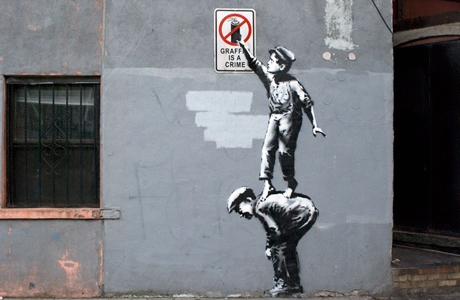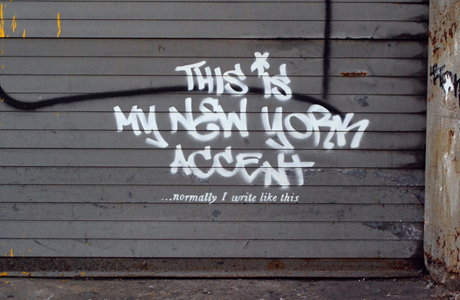 The exact locations of the spray art are not readily available, so, if you're lucky, you may stumble upon one of the installations. If that's the case, a toll-free 800 phone number is included with each piece, like the one below:
The website even provides directions which read: "To enhance your enjoyment of the exhibits an audio guide is provided via cell phone. Simply call the number next to the painting and select the appropriate option on the keypad. This is a toll free service."
We called the above number and were greeted with a poindexter-like American voice recording saying, "Hello and welcome to the show. For further information on the piece of the work of art you are viewing please press the item number followed by the pound sign." We entered 1, followed by #, and were given a lengthy description of the image of the two boys at work in the above photo. The recording is interesting, informing and humorous … but, best if you listen to it yourself.
At the bottom of the website there is a sentence that reads: "For the next month Banksy will be attempting to host an entire show on the streets of New York." The word "attempting" stood out to us, insinuating the exhibit may not happen … at least, not as planned or in its entirety.
Apparently, the painting of the two boys, called "The Street is in Play", has already been painted over, reports BBC News. Humph.
Let us know if you see a Banksy in NYC this month!
Banksy Mural Goes Missing
Another Banksy Goes Missing
Banksy Auction Sale Canceled 


Read More
Filed Under: