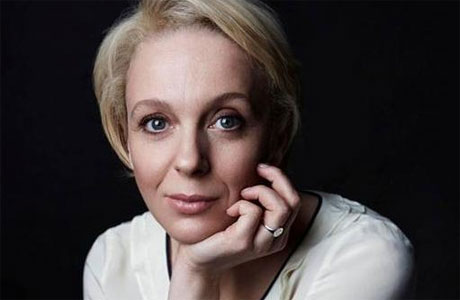 There was a most revealing interview for Sherlock fans in the Scotsman over the weekend, in which Amanda Abbington – who will be appearing in Season Three as John Watson's other half Mary Morstan – gives her account of what it is like to try and stand in between Martin Freeman and Benedict Cumberbatch when they are having all that chemistry at each other.
It's quite hard, apparently.
She says: "When I was at the read-through, I remember watching them, and the chemistry between them is just amazing. They do have this beautiful relationship, so getting in between that – which is what Mary does, she becomes this kind of third wheel – was scary."
"I remember doing a scene very early on with Martin and Ben, and I was standing in between them and I thought, 'I really have to up my game, this is proper.' They really bounce off each other."
And it's not just an intimidating situation on set, as Amanda found out when it was first announced that she is playing the part: "The fans love these two together, so I'm sure Mary won't be particularly liked by them, but I hope that on the whole people really like her, because she's a great character and she has some fantastic secrets."
But she can at least take solace that the part of Mary was created with her in mind, so she has the full backing of both Steven Moffat and Mark Gatiss.
"We were at Mark Gatiss's house when 'The Hounds Of Baskerville' first came on the telly. Afterwards they went into the kitchen and were sitting talking about the next series. I went in and sat with them. It had been mooted that I would be in it, might have a little part in it. They were talking about who might play Mary and I was like, 'So, who are you thinking of?' and they said 'You.'"
"I got very emotional because it just seemed so amazing, just such a gift."
See more:
Martin Freeman Signs Up For 'Fargo' TV Series
WATCH: Louise Brealey of 'Sherlock' In 'Delicious' Trailer
Eleven Fictional Characters Who Could Totally Be Time Lords
Benedict Cumberbatch, It's About TIME
Read More
Filed Under: