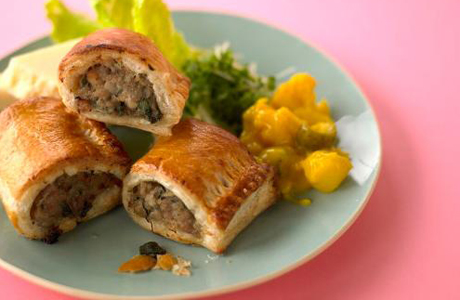 If you ask any British expat what he or she misses most about their homeland, the majority will eventually—after perhaps citing their friends and family—list that very important element of day-to-day living: food.
Though most British food items can be found in specialized stores such as Ohio's Wise Choice British Foods—which also boasts a comprehensive online food order catalog—the vast majority of products are not likely to adorn the aisles of Wal-Mart or even Meijer. Though the latter is indeed known among expatriates for its British aisle (haha, get it?), said aisle is usually restricted to a mere 25 or so items, mostly of the non-perishable variety.
And so, here is a list of those wonderful British food items that cannot be found in major American grocery stores.
1. Chocolate Bars
While it is true that certain incarnations of the flagship Cadbury bar can be found fairly easily stateside, popular Cadbury chocolate bars such as Crunchie, Twirl and Flake are not so easy to come by. Nor, for that matter, are products by the likes of Thorntons, Rowntree's (formerly) and Divine Chocolate Limited. It is a good idea to stock up on these items before leaving the United Kingdom ahead of your new life across the Pond.
2. Sausage Rolls
Given America's love affair with hot dogs and corn dogs, it is surprising that sausage rolls have yet to catch on this side of the Pond. Indeed, it can be an odd feeling pushing your trolley (or cart, as it is known in the U.S.) through the baked goods section and not see signs for sausage rolls. Thankfully, for those who like to bake, the United States is by no means absent the ingredients. Click here for baking directions provided by Britain's own Jamie Oliver.
3. Pies and pasties
It's only when you move away that you start to realize just how many wonderful types of pie and/or pasties the British Isles has to offer. Whether you're a fan of steak and kidney pie, shepherd's (or cottage) pie, or just a good old pork pie, you're likely to be left disappointed once more in the bakery section. And if that were not a hard enough pill to swallow, the word "pasty" is barely even known in the United States.
4. Pop drinks
Okay, so these aren't technically food items, but given the caloric intake of most fizzy drinks (or soda, pop, or coke in the U.S., depending on where you are), it is perhaps just as well to bracket said drinks together with food. Among those that you won't find in major American grocery stores are Irn-Bru, Lilt and Lucozade, while the likes of Vimto may well have simply fallen victim to the United States' ban on black currant production. Indeed, as America's so-called "forbidden fruit," black currant is actually an alien term to the majority of Americans.
5. Crisps and finger food
It is one of the more well-known word differences; Americans refer to crisps as chips (or potato chips). But a more tangible difference in this particular subcategory is the type of crisp products each country has to offer. While Walkers crisps (branded as Lay's in the United States) are widely produced across America, popular flavors like roast chicken and prawn cocktail are virtually impossible to find, while products such as Hula Hoops, Wotsits and Monster Munch are also noticeably absent. Meanwhile, whether you love them or hate them, Twiglets are also missing, perhaps for the very reason that Americans don't typically understand marmite—another item that, along with several other spreads and dips, is not exactly lighting up shelves across the 50 states.
What other British foods do you have trouble finding in U.S. supermarkets? Tell us below:
See more:
Why the U.S. Should Adopt British-Style Supermarkets
We're Not in Tesco Anymore: Six Ways U.S. Supermarkets Differ From British Ones
A British Expat's Guide to Living in Indiana
Read More
Filed Under: