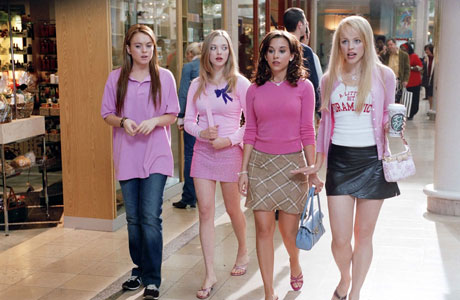 This article is not about the differences between British and American education systems (a comparison that should probably be reserved for a post of its very own). Rather, it is a look at the little things, things that breathe life into the everyday American high school, things that—to a British outsider—might seem a tad bizarre and/or unfamiliar.
Firstly, and this is true of American life in general, things are so much bigger in the average American high school. Actually, a better phrase might be more bombastic.
And things perhaps don't come more bombastic than high school marching bands, huge armies of instrumentalists who perform at various events throughout the school year. These bands are usually of considerable quality given that they are comprised entirely (excluding the conductor) of teenage students. And if it wasn't enough that they (as well as various other performance troupes) play before a dedicated demographic of family members, many will also perform at state level, while the very best get to compete at what Americans refer to as "nationals."
Of course, it's no good having highly dedicated performers if they don't have a venue in which to perform. Thankfully, American high schools don't disappoint in this regard; indeed, if you think that the seemingly massive auditoriums featured in American TV shows such as Glee are exaggerated, think again.
Moreover, high school basketball gymnasiums are also substantially bigger than anything you would see in Britain, and they host not just marching band performances, but cheerleading and Color Guard competitions, as well as basketball itself. These venues are particularly popular in the Midwest, where the state of Indiana boasts 12 of the 13 largest high school basketball gymnasiums in America.
Meanwhile, there is one aspect of American schools that isn't quite so big: school buses. Those same yellow vehicles you've probably seen in countless American movies are real—as real as the vast corridors of lockers that also feature in said films—and they're everywhere.
They're even utilized by some students on prom night. And nobody does prom night—a milestone that has evidently grown more popular in Britain over the last 10 years—quite like the Americans. Dressed to the nines, students attend the event (again, regularly featured in the movies) at the culmination of senior year, crowning the Prom King and Queen in the process. This event is similar in some respects to that other milestone known as homecoming, which welcomes back school alumni at the beginning of the school year, and which also sees much formal attire during the coronation of a king and queen.
Speaking of attire, it is a long-held belief among Brits that American school kids don't wear uniforms, attending class in jeans and button-ups. However, while this is still largely the case, in recent years a number of public schools around the country have begun adopting uniform policies in a seeming effort to improve conformity.
Of course, conformity is the name of the game early every morning, too, when many students join in the daily Pledge of Allegiance, an expression of loyalty to the United States. In high schools, never is this commitment to country more evident than in the classroom, most of which contain, in some capacity, an American flag. Indeed, for a British child enrolling in a U.S. high school, this—as well as all of the above—can make for a very confusing time.
What are some American high school customs that would seem entirely foreign to Brits? Tell us below:
See more:
College Life in the U.S.: Tips for Reducing Move-In Stress for British Parents
A Brit's Guide to High School Proms in America
What the U.S. Can Learn From British-Style Parenting
Read More
Filed Under: