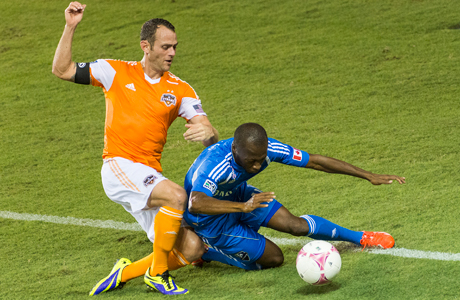 In Britain it's the national obsession. And while it's steadily growing in popularity in the U.S., it's unlikely to ever become America's favorite pastime.  No, not Downton Abbey; I refer to the sport that causes grown men to weep like little girls. Football (or soccer, depending on which side of the pond you're from) is just as vulnerable to Anglo-American nuances as any part of the special relationship.
Football vs. Soccer
Most expats residing in the U.S. stubbornly refuse to call the game "soccer" so vehemently you'd think it was treason on par with Guy Fawkes' Gunpowder Plot. However, "soccer" is a portmanteau taken from the 19th Century British term "(As)soc(iation Rules)," a kicking and dribbling game so called to distinguish itself from Rugby Rules Football. The game became popularly known in Britain as "Assoccer" until around 1900 when the prefix was dropped and the noun "soccer" was born.
Boots vs. Cleats
Neither word does a remarkable job of describing the object. To an American "boots" conjures the image of ladies' knee-highs, sexy but not soccery. Cleats on the other hand, or foot if you will, are the protrusions on the sole of the shoe that provide grip. So this would be like calling the footwear "laces" or "tongues." In the U.K., cleats are known as studs. In the U.S., studs are known as Ryan Goslings.
Most Successful vs. Winningest
When Sir Alex Ferguson announced his retirement as manager of Manchester United earlier this year he was described by U.S. media as the club's "winningest coach." The word feels clumsy to Brits because it has two suffixes; it sounds like a child's grammatical error, like "bestest" or "mices." "Winningest" was coined by American sports journalists sometime in the early seventies and there's continuing debate amongst linguists over its legitimacy as a real word. The most authoritative voice on such matters, the Oxford English Dictionary, doesn't consider it one, so all the worryingest language puritans can relax.
Penalty v P.K.
While watching Spain play Italy during Euro 2012 an American friend of mine (who bears no more than a passing interest in any sport) asked me why the commentator kept saying "P.K." when nobody was taking a penalty kick. I explained that Spain's center-back is called Gerard Piqué (pronounced "pee-kay"), and we chortled gaily at the misunderstanding.
Draw vs. Tie
One problem a lot of Americans have with soccer is that a game can end in a tie (even worse — that it can finish without a goal being scored!).  As fictional Tottenham Hotspur coach Ted Lasso (Jason Sudeikis) put it: "If you tried to end a game in a tie in the United States, heck, that might be listed in Revelations [sic] as the cause for the apocalypse."  In British football, however, a draw can be both a very entertaining and tactically sound result.
Extra Time vs. Overtime
An American soccer commentator on beIN Sport made headlines in the U.K. recently when he referred to an extra time period between Liverpool and Notts County as "Surprise bonus football."  Indeed, it is somewhat surprising: a period of extended play in order to determine a winner is rarer in British football than in U.S. sports as it can only occur during knockout cup competitions and never during regular season play.
Offside vs. Offsides
A subtle one this, but Americans have a tendency to pluralize the term. "Dude, I was not offsides!" Landon Donovan might say, compared to David Beckham's: "That was never offside ref!  Tell him, Victoria!"
Pitch vs. Field
In U.S. sports, a field is where the game takes place and a pitch is a baseball throw. In the U.K., a pitch is where the game is played and a field is where sheep and cows hang out.
Club vs. Franchise
When soccer stadium announcers in the U.S. proclaim that a player just scored his "One hundredth goal for the franchise," it falls rather heavily on British ears. "Franchise" feels overly formal, which is curious when you consider us Brits are the ones with a reputation for formality.
Defence vs. Defense
In American English defensive duties have a vocabulary all of their own. The first time I went to a Knicks game I couldn't work out why everyone kept yelling "Good day!" at the players. When I asked my American companion why everyone was talking like they were in a Dickens' novel he explained that what they were shouting was "Good D!" as in "Good defense!" The British equivalent of this is "Well in, my son!" Similarly, if one talks about clean sheets in the U.S. they are most likely engaging in laundry talk, whereas a clean sheet for a football team in the U.K. means they didn't concede a goal. In the U.S., however, a team that didn't have a goal "scored on them" (in the U.K. we'd say "against") would have achieved a "shut out."
Have you been a victim of sporting terms lost in translation?  If so, tell us in the comments below.     
Read More
Filed Under: