Named after 18th Century U.K. Prime Minister William Pitt, 1766-1778, Pittsburgh, PA has more to offer than steel and bridges. Check out British events and organizations in Pittsburgh:
1. Piper's Pub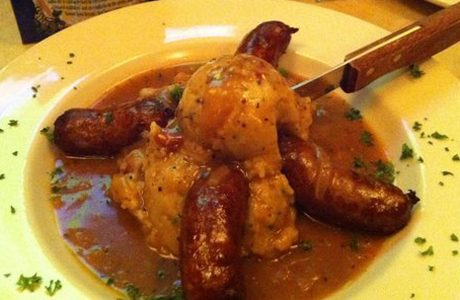 Piper's Pub, located at 1828 East Carson Street, offers a "taste of the British isles" with traditional dishes like bangers and mash (pictured), scotch eggs, curry and chips, shepherd's pie, toad in the hole … just to name a few. Start the week off right with a proper Sunday Roast, Yorkshire Pudding and all, starting at 3 pm until they run out. As of next week, Piper's will be opening a fish and chip shop complete with a British pie bakery.
2. Shakespeare Restaurant and Pub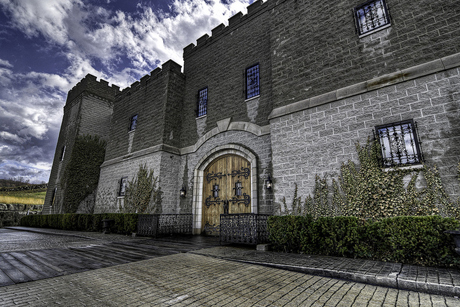 The massive 30,000 square foot castle, home to the Shakespeare Restaurant and Pub, gives Medieval Times a run for its money. A 45-minute drive will land you in Elmwood City, at 1495 Mercer Road, where you will find a castle with 16th century styled floors, a Shakespearean-inspired painting on the ceiling, an English Knot Garden and Windsor Room which is ideal for events, seating 140. The wood-paneled dining room is lined with thirteen raised "Battleship" booths for intimate dining. The menu is American with a touch of the Middle Ages.
3. Pittsburgh Shakespeare in the Parks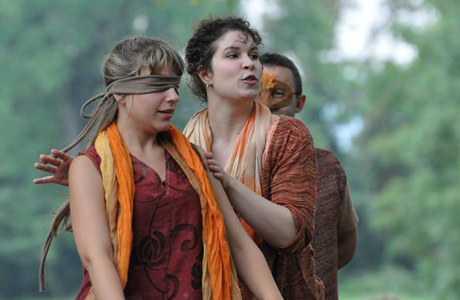 Established in 2005, this non-profit theater group travels from park-to-park, offering free performances of Shakespeare's plays. With the city parks as their only set, the group tells the story in a "very physical way," grabbing the audiences' attention. Founder Jennifer Tober says, "Our emphasis is on the words, and on the unique collaborative relationship among the actors, the language, and the audience." You can keep up with the group through their Facebook page.
4. Unseam'd Shakespeare Company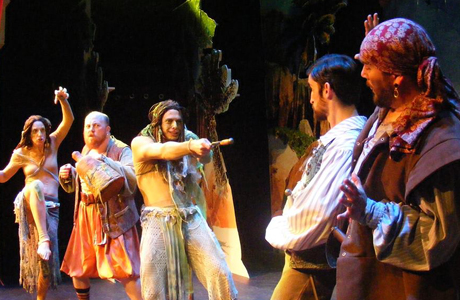 The Unseam'd Shakespeare Company has been "rediscovering and reinventing classically inspired plays" since 1993. The 2013 performance schedule included The Tempest, or The Enchanted Isle, a 17th century adaption of Shakespeare's The Tempest by  authors John Dryden and William D'Avenant. The professional theatre group is preparing for its 2014 season. For more information go here.
5. Saint Andrew's Society of Pittsburgh


The Saint Andrew's Society of Pittsburgh, established in 1990, is a 501(c)(3) organization with the mission: "To preserve and promote Scottish heritage and traditions in the Greater Pittsburgh Area through educational, philanthropic, and social endeavors." The group hosts annual events like the Fall Ceilidh, the Highland Games; and awards academic scholarships to those studying Scottish arts.
6. Pittsburgh Scottish Country Dancers
Some people may be interested in learning a new dance but think to themselves, "I'm not coordinated" or "I can't dance." This Scottish social group puts those concerns to rest saying, "If you can walk, you can dance." The group offers twice-weekly classes, on Monday and Saturday, and a Highland Ball in the spring. The classes take place at Grace Episcopal Church, located at 319 West Sycamore Street. To make things even easier, and more fun, the group hosts a Scottish Country Dance Meetup Group as well.
7. St. David's Society of Pittsburgh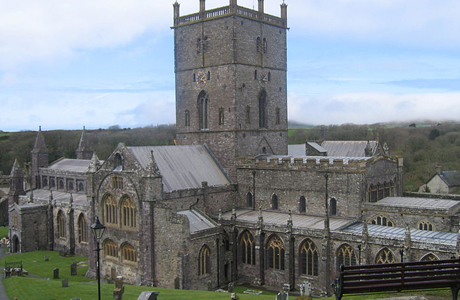 St. David, the Patron Saint of Wales, is the namesake for this Welsh social group. Each year, the group holds a luncheon in his honor, on or near March 1, which is St. David's feast day. The group gets together to promote and preserve Welsh heritage through events and an ongoing Welsh language class. You can follow the group on Facebook.
8. Pittsburgh Cricket Association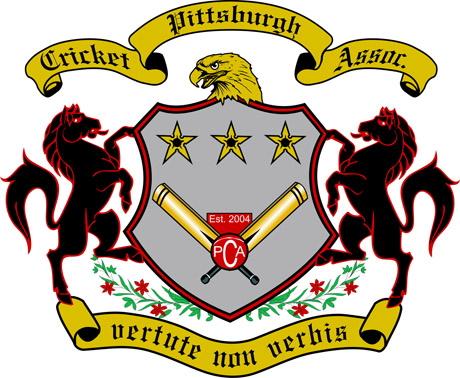 Peter Della Penna, cricket editor at ESPN, describes the game of cricket saying, "It's kind of like an underground sport, a secret society, in the sense that it's everywhere if you know where to look." He goes on to say, "But if you don't know where to look, you wouldn't know it existed." That's where the Pittsburgh's Cricket Association comes in. The Association embraces the game of cricket with its mission "to promote, encourage, foster and cultivate interest in the sport of cricket" and "further the development and advancement of cricket in Pittsburgh and North Eastern PA." The organization has a list of clubs and schedules here.
9. Riverhounds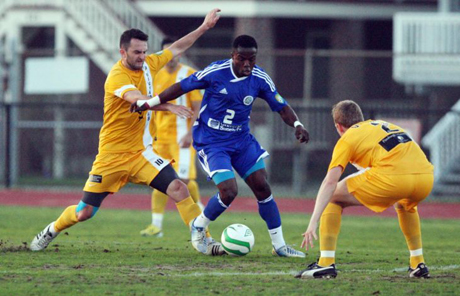 Pittsburgh's professional soccer team, the Riverhounds, is home to Kevin Kerr, Scottish Midfielder and Rob Vincent, English midfielder. Founded in 1999, the Pittsburgh Riverhounds play their home games at the 3,500-seat Highmark Stadium, located at 510 W Station Square Dr. You can find the team's schedule here; and keep up with their successes on Facebook.
10. Carnegie Museum of Art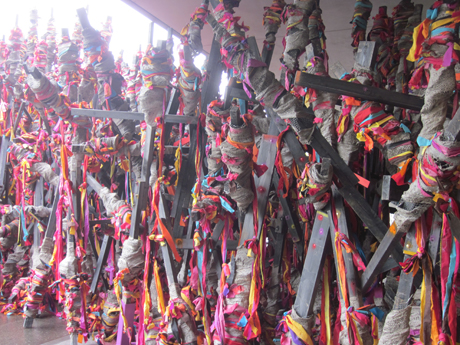 English artist Phyllida Barlow is featured in the 2013 Carnegie International exhibit taking place October 5, 2013 through March 16, 2014. Barlow's piece above, called TIP, is on view at the museum's Forbes Avenue entrance plaza. Her bio reads, "Barlow is known for her use of scrappy materials and rough construction techniques that contradict and undermine the grand scale of her works, resulting in an ambitiously "anti-monumental" aesthetic." She currently lives and works in London.
Do you have any additions to the list? 
See More:
10 British Things About Philadelphia, PA
10 Things American Love About Living in the U.K.
10 Things British Expats Will Miss About the U.K.
Read More
Filed Under: