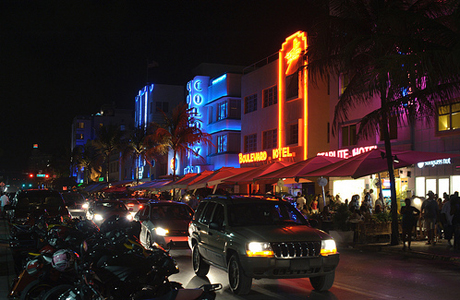 A staggering 700,000 Brits currently call the U.S. home, and these dreamy locales are where many of us end up.
New York City
The city that never sleeps (not even a power nap on a public holiday!) is home to thousands of Brits who love almost everything about it, whether it's getting a burger delivered at 3 am or the 24-hour subway. For anyone missing home, there's also a flourishing crop of shops selling British staples in the West Village. Pop to Myers of Keswick if you're low on Savlon or real Heinz Beans. A Salt and Battery, meanwhile, serves up real fish and chips. Big Apple Brits and GEORGE will see to all your expat socializing and networking needs.
Austin
Texas's computing and technology hub (Dell is based here) combines urban cool with suburban tranquility and idyllic countryside. If you're an Austin-based or bound expat, check out this thriving Meetup.com group for local Brits. Still homesick? Nearby San Antonio boasts a range of shops selling British products.

The state of Florida
The Sunshine State is a traditional destination for British retirees and "snowbirds" seeking an escape from our dreary, cold winters. Florida's laidback lifestyle, picture-perfect beaches and warm climate are powerful lures for Brits but, warns this Miami-based British blogger, it's not actually hot all the time, so bring a jumper. See also: 10 British things about Miami.
San Francisco
Wear flowers in you hair in Haight Ashbury or USB cables in Silicon Valley. And be sure to fritter your expat emergency fund on food and drink in SF's 3,500 restaurants and 400 bars. The City by the Bay is a great choice for British expats who don't mind the long West Coast commute back to Blighty. And if you need a blast of Britishness before your next trip home, join this Meetup.com group for British and Irish expats.
Seattle
If you're not big on sunshine and rain doesn't get you down then this might be the place to make your American dream come true. With a climate similar to our miserable British one, why is it that this U.S. city lures so many of our people? That'll be the big name employers. Boeing, Microsoft and Amazon all have offices in the Emerald City. Not impressed? Here are some more reasons to move to Seattle. For homesick Brits, there's even a crumpet shop and a flourishing expat scene. See also: 10 British things about Seattle.
Portland
If you're the granola munching, straw hat-wearing type, whose favorite pastime is sorting the recycling, this Oregon city is your spiritual home. But it has more than hipster stereotypes to recommend it to expat Brits. Namely, beer. Portland has 51 breweries so even the most hardened connoisseur won't get bored. In need of British drinking companions? There's a Meetup.com group just waiting for your details. Want to put something solid — and British — in your mouth after all that boozing? Try the local fish and chips.
Los Angeles
The mellow climate is probably the biggest lure for sun-starved but extreme heat-fearing Brits. But some of us flock to L.A. hoping to make it in show business. Luckily, there's plenty to occupy actor Brits between failed auditions. For instance, you could sob longingly in the toilets at Universal Studios — as long as you can afford a ticket. For better ideas, check out MTG's Twitter chat co-host, Brits in LA — a fabulous organization run by British expats for British expats. See also: 10 British things about L.A.
Boston
New England's cultural heart boasts the shortest direct flight time back to the U.K., which is handy for anyone who needs to make regular trips home. But Boston has plenty to recommend other than its proximity to The Old Country, especially if you're an academic. It houses a staggering 35 universities. If you want to meet other Boston-based Brits, here's a good place to track them down.
Washington, DC
America's capital has everything an ambitious, erudite Brit could want: top-ranked universities, the opportunity to network around the clock and a surfeit of free museums. Many expats who work in Washington — especially those with families — prefer to live in the City's suburbs in Maryland and Virginia, with their good schools and safe neighborhoods. For DC-based Brits missing their own kind, this group looks promising.
Denver
You don't have to be an oil tycoon to enjoy Colorado's capital city (though, it can't hurt). Outdoorsy Brits, especially those who ski, will love its proximity to the Rocky Mountains. Even if you're not a fan of careering downhill on compacted snow, you'll appreciate having mountain views from your skyscraper apartment block. For the patriotic and homesick, here are some British distractions in Denver.
British expats, do you live in any of these cities? Which city did we miss? What do you recommend in your town? Join @MindTheGap_BBCA on Twitter Wednesday, October 2 at 2 pm/et to stand up and be counted. Tweet your comments using the hashtag #MindTheChat.
See more:
British Things About Various U.S. Cities
A British Expat's Guide to Living in Indiana
Eight Reasons Brits Move to America
Read More
Filed Under: