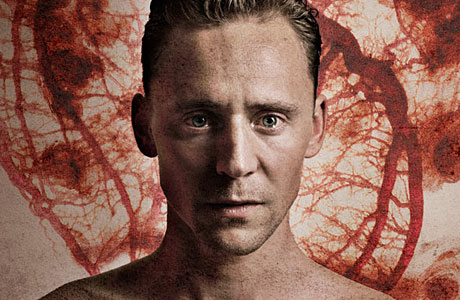 Tom Hiddleston has released a trailer for his forthcoming performance in the title role of Shakespeare's Coriolanus, at the Donmar Warehouse in London, starting in December. The production is directed by Josie Rourke, and will be broadcast around the world on January 30 as part of the ongoing National Theatre Live project, where stage plays are shown in movie houses:
As Tom explains, the theme of the production is a dialogue between integrity and popularity, and shows what can happen when one is sacrificed to feed the other.
He also recently revealed a huge affection for another Shakespeare classic, Much Ado About Nothing, and told the AV Club:
"I think it's the most beautiful, warm, redemptive, compassionate play that he ever wrote. I suppose the reason I say that is because it's full of such deft, fine, subtle, brilliant comedy. I mean, really amazing bravura moments of set-piece, laugh-out-loud moments.
"When you get actors who have digested and studied and thought about and understood the verse and the characterizations, it feels as though it was written yesterday, or it sounds like it's being made up on the spot. I've seen so many adaptations of it. I saw Joss Whedon's film most recently. I grew up on Kenneth Branagh's film. I've seen amazing productions on stage in London. I saw Simon Russell Beale play Benedick and it was hilarious, at the National Theatre with Zoë Wanamaker. David Tennant did it with Catherine Tate playing Beatrice. I've seen it set in '30s Italy. I've seen it set in contemporary Los Angeles. I've seen it set 400 years ago. It never fails to delight. It just leaves people with a very, very happy feeling in their heart, I think.
"And I think the reason is that it's about love. It's about your last chance. You might have sworn off finding the right person and think, 'Love's not for me. Marriage isn't for me. I will die a bachelor, or I will die a maid. None of your romance, none of your love poems.' It's about these two old cynics who are like, 'Nah, it's not going to happen for me.' And it does. I think that's just very redemptive and sweet."
And it's not just about getting that warm and fuzzy glow:
"There's one extraordinary aspect of the play, which is that when Hero's chastity is in doubt — it's called into question because of the plot of Don John — an extraordinary thing happens, which is almost unique in all of Shakespeare, which is the man, Benedick, takes the side of the women in blind faith… I think it's, yet again, evidence of Shakespeare's extraordinary compassion and understanding of human nature.
Naturally, with this amount of affection from an actor to a play, the question is whether Tom would welcome the chance to appear, and of course he would:
"I would love to play Benedick. Absolutely. It's very much on my wish list. He's so funny. He's such an old dog. And there's such fine wit in the way he speaks. And he's a warrior, too. I think if you embrace the idea of a classical career, in the old sense of the word 'career,' you have a good stab at all the big ones, at the moment I'm playing a lot of soldiers. I've played Posthumus in Cymbeline, Cassio in Othello, Prince Hal, Henry V, I'm about to play Coriolanus. They're all soldiers. They're all warriors. And what's nice about Benedick is he is a warrior, but he's a warrior who falls in love. So I feel it's sort of a logical progression."
For more details on Coriolanus, visit the Donmar Warehouse website.
Find out more about National Theatre Live at their website.
See more:
Tom Hiddleston Wins Anglo Fan Favorites for Second Straight Year
Brit Binge Watching: Rickman and Hiddleston Films You Can View Online
Tom Hiddleston Breaks Out in Disney Song
New Pictures Of Tom Hiddleston and Tilda Swinton In 'Only Lovers Left Alive'
Benedict Cumberbatch: "As An Actor, You're Looking For The Infinite"
Read More
Filed Under: