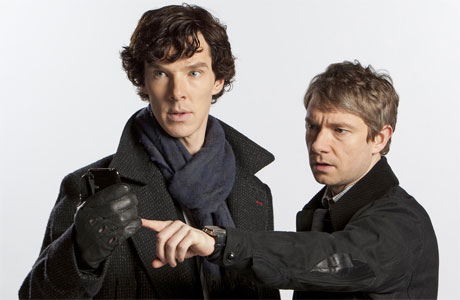 Let's be really clear about this, there is practically nothing of new Sherlock in the new trailer for forthcoming BBC Dramas that was aired last night. It's a montage trailer, designed to lift the spirits, attract the attention and generally waft people towards a forthcoming season of quality televisual programming without giving too much away.
So, no clues as to how he survived the fall, no insight into the almighty row that must be on the way between himself and John Watson, when his lack of death is finally disclosed, and best of all, no spoilers whatsoever.
You can feel free to watch this; noting as it passes that David Tennant has a new drama called The Escape Artist (written by David Wolstencroft, who also gave us Mi5), that Jim Broadbent is starring in a retelling of The Great Train Robbery, written by Broadchurch's Chris Chibnall, and that the Musketeers will ride again (aided by Peter Capaldi); without worrying that you're about to gorge on a ruinous secret that will sour your enjoyment of Sherlock when it finally comes back.
That little fragment is still pretty good, eh?
Read More
Filed Under: