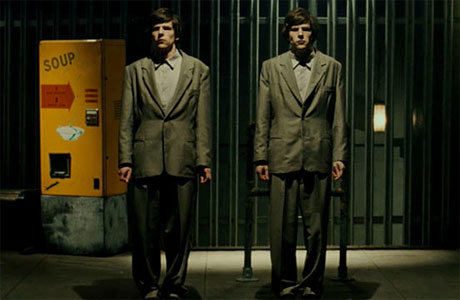 Richard Ayoade, who plays Moss, the pre-Sheldon Cooper Sheldon Cooper in The IT Crowd, has been working on his second full-length feature, after the hugely enjoyable Submarine, from 2010.
This time, moving away from tales of British teenagers and their ongoing battles with maturity, he's adapted a novella by Fyodor Dostoevsky, and drafted The Social Network's Jesse Eisenberg in to help.
The Double is the tale of a young man who discovers that his carefully ordered life is being unpicked, and restitched by someone that looks and acts exactly like he does: a doppelganger.
Here's the trailer:
The Double, which also stars Mia Wasikowska, Wallace Shawn, Noah Taylor and James Fox, has just been shown for the first time at Toronto International Film Festival, under the expert executive production skills of Sir Michael Caine.
No word on distribution as yet, but fingers crossed it'll be in theaters soon.
Read More
Filed Under: