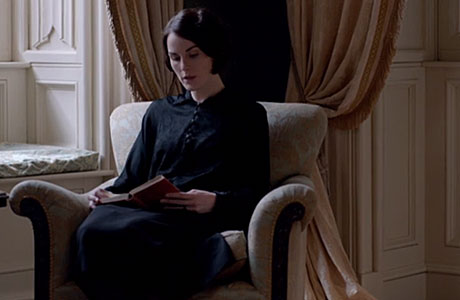 Season Four of Downton Abbey is about to start in the U.K. and a new clip has been put online, once again demonstrating the full extent of Lady Mary's grief, after the shocking death of her husband Matthew.
Dressed in widow's weeds, she even refers to her baby son as a "poor little orphan," which causes a note of reproach from Anna:
However, things aren't going to remain this gothic for ever, as Michelle Dockery told EntertainmentWise : "There is some light and shade. There are some suitors this year, because inevitably, Mary does have to move on.
"She needs to find someone so there are some new characters this year."
And while Lady Mary is struggling to see a bright side, for Michelle, the tragic events have given her fresh opportunities as an actress.
She said: "Initially, when we read the storyline with Matthew's death, we all thought, 'What will happen now?' But it has taken things down a completely different avenue. Series four is a complete contrast to series three. And I'm still discovering so many sides to her character.
"I like how in the first few episodes of series four Mary is retreating to being quite cold again like she was in series one. In a slightly more grown up way and for very different reasons, she was quite superficial, spoilt brat in the first series but now she's changed."
Downton Abbey returns to PBS in January.
Read More
Filed Under: