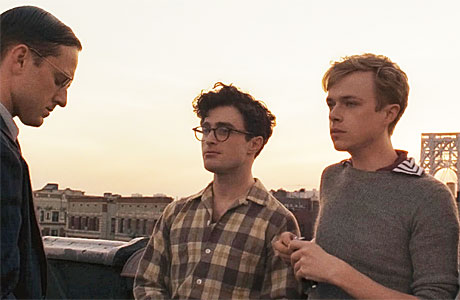 It's really tempting to refer everything Daniel Radcliffe does back to Harry Potter.  You do it. I do it. It's like a reflex reaction.
Not through any deficiency in his acting ability, of course, Emma Watson and Rupert Grint have the same problem. It's just a problem of visual triggering: put any of them in a shirt and tie, and place them in a classroom – especially a classroom in the past – and there's an immediate, unfair expectation of wands and horcruxes and magical sparks.
But in Kill Your Darlings, in which Daniel plays the beat poet Allen Ginsberg, it's especially hard to shake, given than he's a new boy in a place of learning, with newly discovered powers (of creativity) and the story is about him being welcomed into an unimaginable and, yes, magical new world of people with similar talents and aspirations.
Only in this case, there's no Dumbledore, the magic wands are used for writing with, and the magic potions are drugs. Oh and Harry's in love with Voldemort.
Here's the official trailer:
And here's another, slightly different one, of a similar length:
Kill Your Darlings, starring Daniel, Dane DeHaan, Ben Forster, Jack Huston, David Cross, Elizabeth Olsen, Michael C. Hall, and Jennifer Jason Leigh, is released on October 16.
Read More
Filed Under: