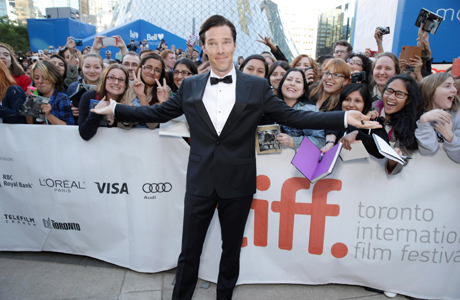 British actor Benedict Cumberbatch was the big attraction on the red carpet last night (September 5), as the Toronto International Film Festival got underway.
The spotlight was on him — and he felt good. "That's a no brainer. It is a good moment in my career," he said.
The actor had the starring role in the festival's opening night film The Fifth Estate in which he plays WikiLeaks founder Julian Assange. Cumberbatch is also appearing in two other Toronto films, 12 Years a Slave and August: Osage County.
He told me that he sees The Fifth Estate, with its focus on WikiLeaks, as a very important picture. "It's a film that has at its heart the subject matter of transparency of information and access to information and the ability to question structures and institutions of power — and our right to do that in a democracy," he said.
Assange is a polarizing figure: earlier this year, he remarked that the film was a "propaganda attack."
Cumberbatch didn't rely on him to help him with his portrayal.
He said: "I got most of my research done through footage that's on the internet available to anyone and from talking to people who'd either met him or had some association with him. I had a very brief email exchange at the beginning of the film when he basically said 'I don't want any part of this film' and that was the end of that communication."
At the very least Benedict Cumberbatch hopes the film gets festival audiences talking.
He said: "As long as people come out of here interested and intrigued and want to debate the issues in the film and are entertained by that and carry the discussion on outside that's fantastic."
Read More
Filed Under: