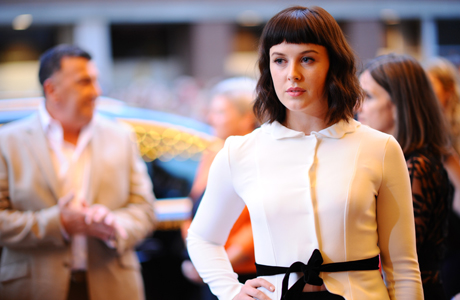 After having won recognition playing the young Margaret Thatcher in The Iron Lady, Welsh actress Alexandra Roach has continued to get good roles and is now poised to make quite an impact in the forthcoming film One Chance in which she stars opposite James Corden.
Corden portrays Paul Potts, the mobile phone salesman who became an opera star after winning the TV reality show Britain's Got Talent in 2007. Roach, who plays Potts' wife, sees the film partly as a romance.
"At the heart of the film is the love story," the actress says, "so when you meet them in real life, you see what a unit that they are together, and she's just his ultimate confidant and so supportive of him, and I hope that we've captured that."
The film has the hallmarks of a star vehicle for James Corden who does a very decent job in the role — although there have been some mutterings that it's slightly disconcerting to watch him lip-syncing as the masterful operatic tones of the real Paul Potts emerge from his mouth.
Roach enjoyed working with Corden. She says: "We had such a laugh doing this film and we really just got on. We improvised a lot, and it's made the final cut, so it can't be that bad I guess."
One Chance opens in New York in December for a short run so it can qualify for Academy Awards consideration before opening in cinemas in January.
See more:
James Corden on His Starring Role in 'One Chance'
WATCH: James Corden and Mathew Baynton Discuss 'The Wrong Mans'
WATCH: James Corden's Heartfelt Backstage Reaction to Tony Win
Read More
Filed Under: