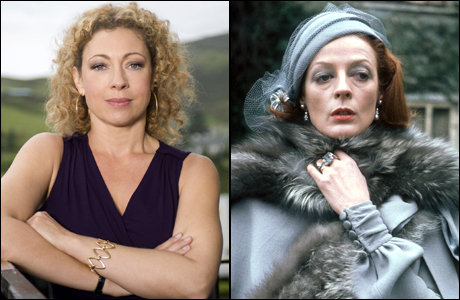 The big news: after a men's final populated by former winners, there will be a brand-new champion in this year's Anglo Fan Favorites women's tournament. Two first-time finalists will vie for the ultimate title – Woman of 2013.
In one corner, we have the wild card-turned-frontrunner Alex Kingston, who plays River Song on Doctor Who. It shouldn't be that shocking that she's popular – after all, she's Whovian royalty in her role as the Doctor's wife, and she's a very familiar face to global audiences from her years as Dr. Elizabeth Corday on ER.
But in previous tournaments, Kingston simply wasn't a factor. Emma Watson took her out in the quarterfinals back in 2011, and just last year, she suffered the indignity of exiting in Round 1 at the hands of Doctor Who mother Karen Gillan.
What a difference a year makes, and what a performance by her fans, the mighty, mighty Kinglets, a group we didn't know existed until this year. Consider us now educated: they are as strong as 10,000 River Songs with regenerative powers intact. In this year's semis, they built a massive lead early on against Helena Bonham Carter, no small feat considering HBC's enviable following. Sure, Kingston's lead eroded significantly over the weekend, but they still managed a commanding victory.
And then we have Dame Maggie Smith. Finally, after two years of taking home bronze, the tart-tongued, twice-Oscar-winning legend has been invited to the big party. (She'll at least get silver this time, fittingly for a Dame.) Her semifinal victory over last year's winner Merlin's Katie McGrath was a stunning reversal of last year's semifinals, when Katie was an unstoppable force.
Smith has managed to arrive in this week's finals with little fanfare or major social media campaigning from her supporters. She just got her business done, smoothed down her gown like a lady, and kept it moving. Whether this will be enough to get her past Alex Kingston in the final, well, that's up to you.
There's something quite heartening, perhaps even radical, about a 50-year-old (Kingston) and a 78-year-old (Smith) being feted in an Internet-based fan favorites tournament. This, in a time when everyone's still chasing youth. 80 is the new 30, we reckon.
As always, we have our battle for third place, which is a rematch of the 2012 finals where McGrath defeated HBC by fewer than 200 votes. Could HBC avenge that loss here?
Note: you can vote hourly for your choices in this round. There's a title on the line: VOTE! Voting ends Thursday, October 3 at 11 am ET.
Who's your Woman of 2013, Alex Kingston or Dame Maggie Smith?
Read More
Filed Under: