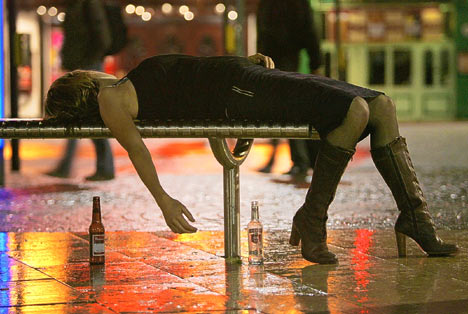 Brits are known for their ability to drink; it's practically sport. It's common to go out early and go home early. Unfortunately, that plan doesn't always work out.
Innocently enough, a pubgoer may just want to put his head down for a minute, take a little kip before getting on the train but the sidewalk isn't the best place for that.
The UK government is proposing a plan to keep people safe, who after a night out, can't take care of themselves properly. The Association of Chief Police Officers has announced that it supports government plans for Britain's first "welfare centers", more commonly known as "drunk tanks", reports The Guardian.
The welfare center would offer a place for people to sleep off their drunkenness and be safely inside. Of course, when the person wakes up they may be a little disoriented, a little embarrassed but that's not the only price they will pay. The overnight lodging is not free and the person would be charged somewhere between £300 and £400, which is the cost of putting someone up in a police cell.
As well, the person may be charged with public intoxication and receive an additional fine of £80. With the cells being run by a private company it's said that medical staff would be on hand to monitor their overnight guests.
Implementers of the proposed plan are hoping it will deter people from drinking themselves into oblivion and pace themselves enough to get home. If someone knows ending up in a "drunk tank" might be the case, it may be motivation to get a cheap hotel down the street, save the trip home for the morning, and skip the hefty bill for an uncomfortable cell.
In 2012, more than 31,000 people were either arrested or fined for being drunk and disorderly in the UK. The state of the offenses ranged and not everyone would have required a bed to sleep in.
The above plan makes us think of the the PSA that came out last year, warning intoxicated people to avoid public transport:
Ending up in a drunk tank is a sobering reality that the happy hour is long over.
What do you think are the pros and cons of this plan? 
Read More
Filed Under: