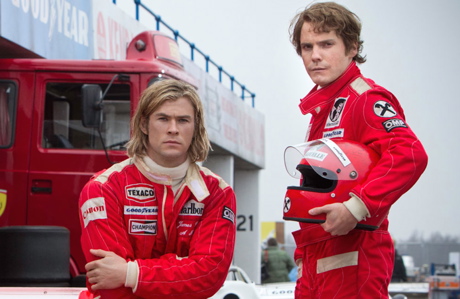 If you saw the movie Rush in one of the "select cities" it opened in last weekend, or if you're going to see it when it enters wide release this weekend, you'll likely want to know more about the true life rivalry of Formula 1 racers James Hunt and Niki Lauda.
The Ron Howard-directed film focuses on the intense competition between the dashing British playboy Hunt (Chris Hemsworth) and the meticulous Austrian Lauda (Daniel Brühl) for the championship title in 1976. It's a movie that will certainly appeal to Top Gear fans, but you don't have to be an aficionado of racing to be drawn in by the human elements behind the high-octane competition, which includes Lauda's nearly fatal crash and astonishing return to racing just weeks afterwards.
• TopGear.com recently interviewed Lauda, who not only won two world championships when he drove for Ferrari in the 1970s but also, after "retiring" from racing, came back to win another championship while driving for McLaren in 1984. In between, he founded his own airline.
He told TopGear.com that he wasn't quite as serious as he appears in the movie, but he said that actor Brühl got him just right.
"I trained Daniel well," he told TopGear.com's Jason Barlow.
Lauda also said that the movie effectively captured the reality of the 1976 championship season and his own personal struggles.
Of his crash and its grueling aftermath, Lauda said, "It's shot extremely well in the film, I must say. The horror. I finally understood how the people at the time must have felt. At the time, I didn't care. I was racing!"
Racing, for him, was everything – a notion the film also captures.
"The film is about two different guys who used different approaches but who were fighting for the same success," Lauda said.
• "They wouldn't have been so great individually if the other hadn't been," actor Daniel Brühl told TopGear.com, which interviewed the film's two leads. Brühl said there were "so many things I wanted to get right" about Lauda. "His courage, guts, overcoming the fear," the actor said.
"Niki talks with a staccato rhythm, his sentences are like stone, and he always thinks very carefully before he speaks, so he can appear cold and technical," Brühl explained. "But I didn't want to exaggerate that too much, because I wanted him to be likeable. After his accident, it's quite heart-breaking. Even Niki said when he watched that sequence that he was touched by it."
• Chris Hemsworth didn't have the opportunity to discuss his role with James Hunt, who died in 1993 of a heart attack. "I'd love to have been able talk to him, but his passing gives me a little bit more freedom," Hemsworth told TopGear.com.  He said he was trying to portray the true Hunt, but said that inevitably, any performance is "your version of it. I'm not mimicking him. You've got to find a way to relate to it, with a nod to the period and who this guy really was."
Hemsworth knew that the motivation of the drivers came not just from the desire to win but also from the fear of death on the track. In the 70s, Grand Prix racing was a hazardous sport.
"Death was the dark cloud looming towards you that you'd occasionally acknowledge but otherwise ignore," Hemsworth said, noting that some drivers even referred to themselves as knights. "That they had that sort of nobility. And that's in the film: there is so much more to it than just racing."
• The occasion of Rush's release led BBC News to ask the question: How deadly was 1970s Formula 1 racing?
BBC News points to one line in the movie spoken by Daniel Brühl playing Niki Lauda: "I accept every time I get in my car there's 20% chance I could die," he says.
He also asks: "What kind of person does a job like this? Each year two of us die."
Lauda himself told the BBC that the line in the movie was "a rhetorical statement rather than a precise statistical calculation."
Kevin McConway, a statistician at Britain's Open University, said that drivers actually had a .35% chance of getting killed each time they drove in a Grand Prix race, practice or qualifying session.
But that statistically low figure rose to 4.4% if a driver entered every race in a season and to almost 20% if the driver entered every race over five years.
The number of drivers each year who died in Formula 1 racing in the 1960s was eight and nine in the 1970s, much less than the two a year cited by the Lauda of Rush. But if you look at the number of F1 drivers who were killed in any races (since Formula 1 drivers often competed in F2 and other races), that figure is much higher: 29 deaths in the 1960s and 18 in the 1970s. McConway calculates that over one five-year period, ranging from the end of the '60s through the beginning of the '70s, F1 racers actually had a 50-50 chance of dying in a crash (again, assuming they entered every race and every practice).
The conclusion: "Being a professional racing driver 40 years ago was unbelievably dangerous," writes BBC News.
Things are much safer now – cars, tracks and technology. No driver has died since Ayrton Senna was killed in 1994.
• Sadly, we note the death of director Richard Sarafian, whose most famous movie is the 1971 car chase classic Vanishing Point.
"The story of a delivery driver making a bet with his drug dealer that he can make it from Denver to San Francisco overnight weaves neurotic paranoia and desperate rebellion into some of cinema's most compelling, evocative car-chase scenes," writes TopGear.com.
"It was about speed," his son Deran, told the Associated Press. "About what it really meant." And his movie had meaning for and influence over filmmakers who came after him. "Warren Beatty and Sean Penn and people like that absolutely adore him," his son said. And Quentin Tarantino gave a special thanks to Sarafian in the credits of his manic car chase film, Death Proof.
Read More
Filed Under: