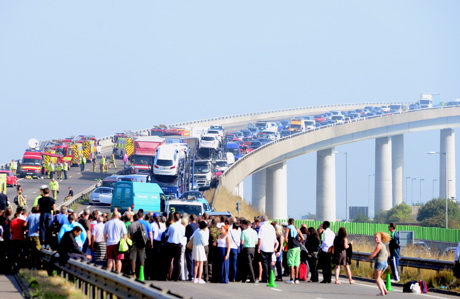 "There's nothing nastier than fog," wrote Richard Hammond last week after an astounding 130-car pile-up on a highway bridge in Kent, on England's south east coast.
Dozens of people were injured as wave after wave of cars entered the dense fog and were unable to stop before hitting already immobile vehicles. Witnesses said the series of crashes didn't happen all at once but occurred over what was actually a prolonged amount of time that must have seemed like an eternity to those involved.
"For 10 minutes afterwards, all we could hear was screeching, cars thudding into each other, lorries crashing," one driver told BBC News.
"Thankfully," wrote Hammond in his weekly column in the Mirror, "modern cars are very safe and thanks to crumple zones and air bags nobody was killed."
Still, Hammond wondered why so many people drove so quickly in a situation where visibility was said to be roughly 30 feet.
"That's shorter than your garden hose," said Hammond.
http://www.youtube.com/watch?v=0NNJfnXPWF4
Hammond says that new automotive technologies will hopefully prevent such crashes in the future.
"As more cars are fitted as standard with gizmos such as collision avoidance systems (that use radar and automatically slow the car to a stop) they'll be safer still and one day multi-car pile-ups will be a thing of the past," Hammond wrote.
The monumental accident took place on Sheppey's Crossing, a four-lane highway bridge connecting the Isle of Sheppey with the mainland of northern Kent.
• Beginning October 14th at 9p/8c, BBC AMERICA will air the Top Gear Top 41, as in the 41 favorite moments from the last decade of the show as selected by the program's three hosts. We'll keep you updated with new details as we have them.
• For the first time ever, Top Gear Live is coming to Poland. Jeremy Clarkson, James May and Richard Hammond will take the festival to Warsaw on September 21. "Never before has the entire playing field of the stadium been used," claims the Top Gear Live Poland website, "and never before have the presenters hosted the show at a venue of this size."
Top Gear Live is not unaccustomed to being the occasion for record-setting and, perhaps in anticipation of the Warsaw extravaganza, Polish driver Kuba Przygoński set a new world's record for high-speed drifting – 217.973 km/hr  (more than 135 mph).
• Meanwhile, back here in the U.S., the American version of Top Gear went to Alaska in this week's episode – in convertibles custom-designed by the show's three hosts, Adam Ferrara, Tanner Foust and Rutledge Wood.
You may remember that the British trio spent a lot of time trying to cross a river in Africa in cars – the American guys spent considerably less time wading across a cold stream in this web-only clip:
• New York City police last week arrested a man accused of speeding on the highways encircling the island of Manhattan in an apparently successful attempt to set a record for doing the 26.5 mile loop. The driver, who became an Internet sensation under the name "Afroduck," posted sped-up video of the stunt on YouTube that showed him making the run in just 24 minutes – even as he stopped at red lights.
Police say that 30-year-old Christopher Tang is the street racer, and in addition to charging him with reckless endangerment, reckless driving, and speed violation, among other offenses, they also confiscated his BMW. (via the New York Daily News)
• And finally, the Frankfurt Motor Show is underway, and MSN Cars in the UK has helped out all of us who can't make it to Germany for the event. The website has posted "The Girls of the Frankfurt Motor Show 2013," with 57 photos – see them all for yourself right here.
Read More
Filed Under: