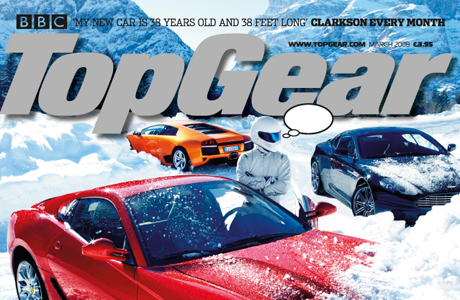 Top Gear magazine is marking its 20th anniversary. TopGear.com points out that the magazine has sold more than 66 million copies worldwide, spawned editions all over the world, and driven over 5,000 cars more than one million miles. Editors of the October special issue are pulling out all the stops to celebrate. Among the features of the anniversary edition is a look at the "Big 50" – the 50 best cars of the last 20 years. To come up with the list, the magazine took the opinions of more than 100,000 online voters. Here are the top 10 picks:
1. Bugatti Veyron (2005) 
2. VW Golf GTI (2005) 
3. Rolls-Royce Phantom (2003) 
4. Ferrari 458 (2009) 
5. Porsche Boxster (1996) 
6. BMW 320d (1999) 
7. Ford Focus (1998)
8. Porsche 911 (1993) 
9. Renault Clio Williams (1993) 
10. Lexus LFA (2010)
TopGear.com said it was hard to winnow down the list even to 50. "Less difficult/violent/painful was naming the worst car of the past 20 years," wrote the website. "And let's not beat about the bush. It's the Chrysler PT Cruiser Convertible."
In honor of the anniversary, TopGear.com is rolling out all 20 years of the magazine's covers – this week, they're on the 1990s. It feels like it was just yesterday.
• "I was hoping that Formula 1 lovers would understand how much I respect the sport," director Ron Howard told TopGear.com about his new movie, Rush, "and appreciate it for its authenticity." But he said that hopes that "people who don't really care much about Formula 1 can find a great story in there."
That great real-life story is about the intense rivalry between Austrian Niki Lauda (Daniel Bruhl) and Brit James Hunt (Chris Hemsworth) in the historic 1976 racing season – during which Lauda sustained near-fatal injuries in a fiery crash on a German racetrack.
When Howard visited Top Gear this summer, he sat down with Top Gear magazine's Jason Barlow to discuss the movie and his fascination with the story (after briefly commenting on his own performance as a Star in a Reasonably Priced Car). You can watch that exclusive interview by clicking here.
Rush opens in selected cities this Friday, September 20, and goes into wide release next Friday, September 27.
Read More
Filed Under: