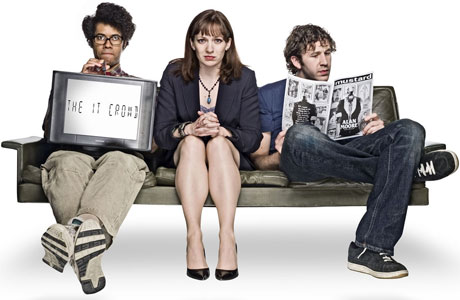 As we mentioned recently, tonight, British viewers will see the very last episode of Graham Linehan's astonishing comedy confection The IT Crowd, set in the tech support department of a busy coporation (run by madmen). When it started, the idea of making funny stuff happen from the mouths of web-nerds – and making them the heroes of the day – was relatively new, and the now dominant sub-culture of memes and action figures and social media was still bubbling under.
Since then, the parallel successes of both this show and The Big Bang Theory have proven that there was a lot of fertile ground in the internet revolution, not least for gags about personality disorders and a catchphrase about switching electrical items off and then turning them on again.
Which brings me to Maurice Moss – played beautifully by Richard Ayoade – the nerdiest of the nerds, the Spock to his colleague Roy's Kirk, the Holmes to his Watson, the TARDIS to his Doctor. He's the socially inept computer whizz with a peculiar understanding of the world and how it works, and a massive side parting. Without Moss, The IT Crowd would be an office-based comedy about a lonely tech support guy and his new female boss. Put a man with no boundaries apart from a series of strict neuroses and a nagging mother on the phone and wonderful things can happen.
Here are just ten of them:
The Coffee Trick
"You should see your face!"
Robot In The Wild
Best (and probably only) Windows Vista joke ever.
Moss Swearing
Yeah, he's got real human emotions boiling away under that mild exterior.
Bullying
It's all about the little bow and hop with which he starts the role play each time.
Moss In Court
Note Denholm's remarkable Heather Mills outfit.
"What Does IT Mean?"
A worrying moment for Jen, when she's asked to define her own job title at the interview of her dreams. Unfortunately, Moss has banged his head. How will he regain his memory?
Like this…
Moss Reboots
http://www.youtube.com/watch?v=ms0CwcJlY5U
There's more to this bit, but it's very sweary.
"I Came Here To Drink Milk…"
A grand master on the TV lexicography game Countdown, Moss finds himself a celebrity, and a member of the 8+ Club. But it's not all backslaps and VIP ropes around Dictionary Corner, as he soon finds out.
How To Avoid Suspicion
The hapless pair have accidentally become involved in a bank robbery. As they make their escape from the gang's hideout, the police arrive. How can they melt into the background?
And finally, The IT Crowd's finest hour:
The Internet
And if you're wondering when you'll get to see the grand finale, here's what Graham Linehan has just tweeted:
US peeps asking about the IT Crowd, it will be available at some point but in the meantime do what you gotta do. I know you're good for it.

— Graham Linehan (@Glinner) September 27, 2013
See more:
WATCH: 'The Double' Trailer, From 'The IT Crowd's Richard Ayoade
Ten Of Britain's Funniest Workplaces
WATCH: 'IT Crowd' Star Chris O'Dowd Talks Life After 'Bridesmaids'
Read More
Filed Under: