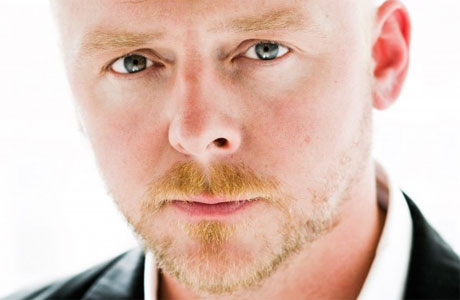 Let's not start this on the wrong foot. Simon Pegg, the grown man actor, may have once been a kid with a crazy dream and a wardrobe full of action figures (back, incidentally, when they were more properly known as action figurines, just to really hammer the point home that they were NOT DOLLS, alright Mum?), but he's a responsible thespian these days and he knows that the one way to really spoil J.J. Abrams' newly reanimated Star Wars franchise would be to throw too many knowing winks to the audience.
So, even though we all KNOW that Li'l Simon would definitely really, really (really) love to be in a Star Wars movie, Big Peggy has, in this interview for the Independent at least, decided to take a more mature view of things.
"I don't think it would be appropriate for me to be in it, to be honest. I think J.J. should cast new faces with no stunt casting."
And this isn't about actor envy either, as far as Simon's concerned, this is simply the best way to serve the story: "I wouldn't want to be popped out of the film by a knowing cameo. I think it would be great to do it properly."
"When we watched the first Star Wars I didn't know anybody – even Alec Guinness and Peter Cushing, who were emissaries from a more classical acting world. For me as a kid it was all new faces. I believed every single one of them. I think, let's not be post-modern about it."
He also wants the writers of the next Star Trek movie to start thinking outside the federation for some new alien races: "We've addressed some of the classic characters and we're just about to start our five-year mission. I'd like to see some new stuff coming up.
"It would be good to come across some new adversaries and original characters. I think we've established ourselves enough to be able to do that so who knows?"
Well, Mr Abrams, for a kick off…
Read More
Filed Under: