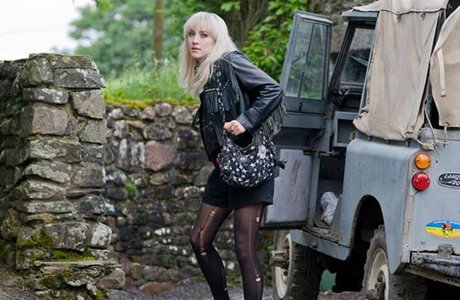 Irish actress Saoirse Ronan says that her latest screen character was so unlikeable that it made it all the more appealing to play her.
Ronan portrays Daisy, a young American who is sent to stay with her cousins in Britain at a time of impending war in the new drama How I Live Now. The film, which is based on the best selling novel of the same name, had its world premiere this week in Toronto.
At the start of the film Daisy is in an anti-social frame of mind sulking and irritated by her new surroundings.
"I had to play someone who was unlikeable and I really wanted to do that. I wanted to play someone who wasn't the warmest, wasn't the most understandable person," says Ronan.
"More than anything I think it was the fact that she was just so bitchy to everyone," she added.
But Daisy begins to soften up a little when she falls for one of her cousins, Edmond, played by George MacKay.
How I Live Now, directed by Kevin MacDonald, is in many ways a love story set against the menacing backdrop of war.
Although the film itself didn't satisfy everyone at the festival Ronan herself gives a good performance. She's only 19-years-old but as an actress she seems self-assured.
She seems to have confidence where it matters most, on the set when the camera is rolling. Ronan says: "I'd be more unsure after I do something or before I do something. But when I'm in the middle of doing it, it all seems clear. When you know what you want to do and you know what the director wants and you feel like you're really bringing that out of yourself – that's really, really great."
If you look at her track record Saoirse Ronan has shown an adventurousness with the parts she's taken on. But she expresses concerns over roles that are too sexually explicit.
She notes: "Things can be oversexualized and it's unnecessary. I watch some scenes in films and I think 'I'm really not getting anything out of this. I don't think it's adding anything to the story.'"
How I Live Now was one of some 280 full-length features at the Toronto Film Festival. When it comes to cinema Ronan has her own views and like many movie fans she hasn't been that impressed by some of the blockbusters that Hollywood has been churning out in recent months.
The actress says: "Some blockbuster films do need to up their game a little bit. It's not as easy as throwing out a big action adventure anymore. It really needs to have a good plot to it and it needs to be strong."
How I Live Now will open in U.S. cinemas on November 8th 2013
Read More
Filed Under: