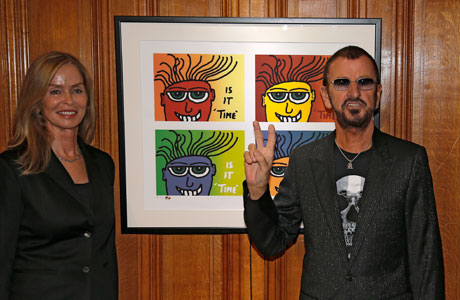 It must be insane being Ringo Starr. Your chief contribution to the world is often derided and overlooked by people who wouldn't know a paradiddle from a paralegal, and yet it has brought you fame and riches and acclaim beyond any musician's frame of possibility, even now.
You used to be in a band with three of the most talented songwriters the pop and rock genre has ever produced, and yet one of your chief memories of their blazing creative incandescence is that you learned to play chess while they were making "Sgt. Pepper's Lonely Hearts Club Band," because of all the waiting around.
You like to drum, and tour, and sometimes people give you awards, and that's always nice. But as you attend a gallery in Monaco, showing off two of your paintings in an exhibition of artwork by people who are not famous for their artwork, you are awarded the prestigious Commandeur de l'ordre des Arts et Lettres medal by the French ambassador Hugues Moret – an honor you share with David Bowie and Sean Connery.
Then the news organisations of the world confuse the two situations and claim that the French are giving you an award just for the artwork. Which, having seen the artwork, is unlikely at best.
You tell reporters: "I'm a drummer, but I can do other things. Like painting, living, breathing," and then you flick the peace sign.
And then, to add astonishment to insanity, you spot that there's an actual yellow submarine outside the gallery – just like in the song "Yellow Submarine" that your friend Paul once wrote for you – and being a game fellow, with a lovely new medal, you go and stand in front of it.
And that's just a Tuesday to you. Saturday is when the really odd stuff happens.
See more:
Five Great Ringo Starr Songs
LISTEN: Tracklisting And Clips From Album Of 'New' Beatles Recordings
Snapshot: 25 Photos of 1960s London
Five Inspired Beatles Album Cover Parodies
Read More
Filed Under: