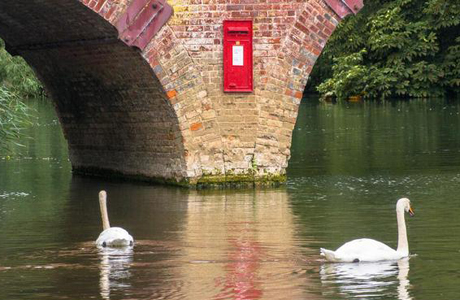 The postman in Sonning, Berkshire, England was a little baffled when coming across a 100-years-old mailbox frontage securely attached to a parapet of a bridge over the River Thames, reports BBC News.
The box is about a meter above water level and the only way to reach it is by boat. It's appearance definitely sparked up some interest among locals and made people wonder how it got there.
Some theories link its arrival to a village story of a child ghost who walks the bridge. Others point out there was a box that looked quite similar hanging on a local pub, that coincidentally or not so coincidentally, went missing around the same time this one showed up.
It appears to be a harmless prank that people are enjoying but due to structure code the mailbox will have to be taken down, according to local councilor Mike Haines.
BBC's Joe Campbell managed to catch a lift on one of the boats going down the river and was able to get a closer look. He used a "helping hand" to reach the box and drop in a postcard. But, he wasn't close enough to peek inside.
People are wondering how it got there, but we're curious what's inside? It gives us the feeling of a wishing well or coin fountain, where you put something in but nothing comes out.
What's your theory? 
Read More
Filed Under: