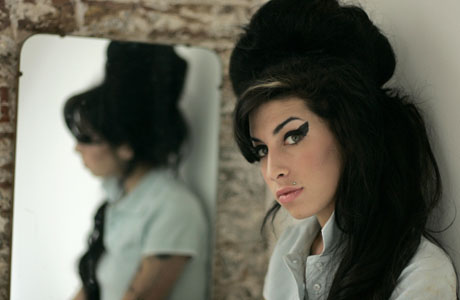 Today, Amy Winehouse would have been 30 years old. In the London borough of Camden there are events planned to mark this event, all the way through September, with her family and friends working hard to keep her memory alive, a mere two years since she left them. And there are tributes and accolades planned from fans all over the world (follow the hashtag #Amys30 to find out more).
There's a campaign to name a London street after her, a charity set up in her name, there's the lovingly-curated exhibition at the Proud Galleries in London, in which Amy's belongings, works-in-progress, notebooks and old recordings are archived in the manner of some old king or novelist.
If you take a step back from the personal grief of the people involved, in many ways it's a continuation of events from the latter years of her life – after "Rehab" and "Back To Black" – with everyone talking except Amy. Having made one very good album and one utterly perfect one out of the giblets of her personal life, she attracted public and media attention on a level that quickly became utterly suffocating, and impossible to satisfy. 
And that attention has continued since her death, taking the form of remembrance. It's what justifies making albums from her unfinished work, keeping the memories alive. It happens whenever a musician dies, and it's a perfectly understandable response from loved ones, and fans, and media organisations and oh hello! Me for writing this and you for reading it.
But it's still true that the combined megawattage of the public gaze was something Amy struggled to deal with when she was alive, and all this talk of street names and statues would be something she would still find it tricky to get her head around if she were able to pop back now.
So I propose we take a moment to do a thing that Amy – or at least the mute, frail Amy that appeared through the refracting lens of intense media scrutiny – never seemed to be able to spend much time doing: quietly, and without a lot of fuss, appreciating the talent, and then getting on with our lives.
If today is a day for anything at all, it's a day for thinking quietly about how frightening it can be to have something in your possession that other people want badly. It's a day for considering that you may become famous for doing a thing – any thing – but when it hits, fame very quickly becomes your full time job. And it's a day to reflect that it would probably have been enough for Amy to just keep going with the writing and singing, but the glare that comes with success made it impossible to see which direction she was travelling.
Most of all though, it's a day for listening to Amy Winehouse. What a glorious chore to have on your To-Do list.
Read More
Filed Under: