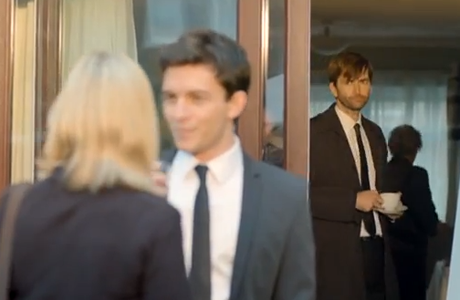 Here's a treat for fans of Broadchurch, the final episode of which aired on BBC America earlier this week: a few extra scenes.
After the season ender aired on ITV in the U.K. last April, ITV offered viewers a short video clip containing bonus scenes of various Broadchurch characters attending a wake for murdered Danny Latimer.
In the video, viewers learn that cub reporter Olly Stevens (Jonathan Bailey) turned down a job at a national paper and why Detective Inspector Alec Hardy (David Tennant) gave big city journalist Karen White (Vicky McClure) an early heads-up that he'd found Danny's killer.
Take a look:
Per the "Broadchurch will return" tag at the end, the crime series will indeed be back next year for a second season, though there's no word yet on which characters will be returning.
The 8-episode show had originally been intended as a self-contained, one-off series in the U.K. It proved hugely popular, however, regularly attracting 9 million viewers. Some 250,000 tweets addressing its finale, the most ever about a TV show in the U.K., were sent out when the last episode aired.
Shortly afterward, the official announcement came that a second season had been ordered. At the time, a delighted Chris Chibnall, Broadchurch's creator and writer, said that when he'd first proposed the series to ITV executives, "I mentioned that if people liked it, there was another very different story we could tell afterwards. I'm really thrilled we're going to tell that story, too."
He's doubtless equally thrilled that the show is getting an American makeover, for which he has been hired as executive producer. The U.S. version of the series will air on Fox during the 2014-15 season.
Did you enjoy the extra scenes?
More Here: 
Broadchurch: The Evolution of Olivia Colman
WATCH: Arthur Darvill on Once, Why He Loves New York, and Performing at the Tonys
Broadchurch Recaps
Read More
Filed Under: