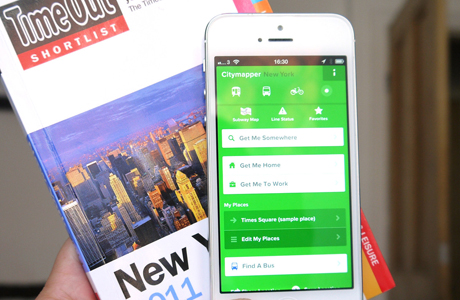 New York state's Metropolitan Transit Authority (MTA) and AT&T challenged developers to "change the way 8.5 million people commute every day" by creating "the transit app of the future" with their contest App Quest.
The MTA received 49 submissions, from all over the world, with the London-based program CityMapper winning the grand prize of $20,000, reports NY Daily News.
In CityMappers own words: "We have A to B journey planning complemented with real-time information on subways, buses and bikes (wherever real-time data is available from the MTA data API), across all five boroughs of NYC."
CityMapper even has a handy dandy, tech-friendly video to walk users through the new app below:
CityMapper will provide information on real-time disruptions; even alert you to when it makes sense to get off the bus and possibly walk the rest of the journey; allow you to personalize the app with places you frequent and your preferred routes; and, report the weather.
NYC is a magnificent city but sometimes it's hard to navigate with so much going on and a lot of resources tucked away, CityMapper makes note of this saying the app can possibly help users find, "Many other things that you need and may not even realize that you need to manage your life in the city."
The second and third place prizes went to SubCulture.com FM and Transit App respectively, with the runners-up being awarded $10,000 and $5,000 for their work submitted.
Good Day New York co-anchor Rosanna Scotto reported on the winner this morning saying, "Really, couldn't it have been an American company who won?" with it being a MTA/AT&T-funded contest. Her co-anchor, Greg Kelly, came to the defense of CityMapper commenting on our living in a global society and CityMapper submitting the best idea.
The judging criteria was based on: 1) Quality of Idea; 2) Implementation of Idea and 3) Potential Impact.
CityMapper has been available to Londoners for over a year, bringing to NY its ability to track multiple forms of New York's transit options including subways, buses, and even the newly-introduced Citibikes.
Do you use apps to help you get around your area? 
Read More
Filed Under: