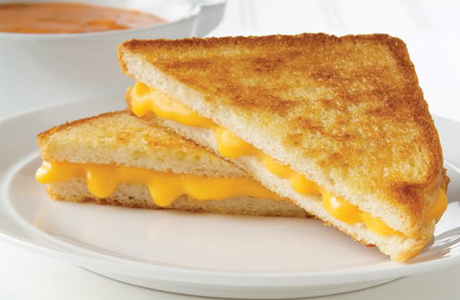 Although we all try to feed our children wholesome, nutritious food (yada, yada), most of us have a handy list of go-to, kid-friendly meals that we can rustle up when pressed for time. Brits typically fall back on beans on toast, cheese on toast, scrambled egg on toast, fish fingers and beans, pizza and sausage and chips. When in the States though, all but the pizza can send your kids' American friends running for the front door.
Other than the Italian or Polish variety (which aren't eaten with chips and beans), sausages are small, skinny and usually served at breakfast. However, I have yet to meet an American who hasn't fallen in love with succulent British sausages, so that might be something to try when you have kids over for lunch. They'll certainly take the chips (sorry, fries) but you might want to check they're okay with the beans. In fact, most American kids I've met (in over 20 years of parenting here) aren't big bean fans at all.
So what's safe to feed American kids if beans on toast is off the menu? Well, there's pizza obviously, just don't serve it with a knife and fork. Pizza is definitely finger food, as are chicken nuggets and fries, and anything else they can get away with if my American kids are anything to go by. (It was when I yelled "Ice cream is not finger food" that I realized remedial training was required.)
They also like macaroni 'n cheese, and although the packet stuff is pretty disgusting, don't go too fancy with your home-made, gourmet mac if you want to avoid disappointment. Anything not bright orange will be eyed with some suspicion.
If you're asked to rustle up a grilled cheese, this is almost your cheese on toast option, but obviously, with a twist. You'll need two slices of bread (it's a sandwich after all), as well as the cheese, and some butter. It doesn't go under the grill (broiler in the U.S.), but is cooked in a skillet (frying pan) or can be thrown on the BBQ grill. If you add sliced ham, it's more or less a Croque Monsieur.
Be careful when asking a young guest what he or she would like to eat, as you might not have heard of some of the requests. A Sloppy Joe, for example, is basically a runny hamburger in a bun; it's ground (minced) beef, onions and tomato sauce spilling out of a hamburger bun.
If s/he mentions pigs in a blanket, this isn't a chipolata wrapped in bacon, but a hot dog (or other sausage) wrapped in some kind of pastry; more like our sausage roll, but not. Similarly, a bagel dog is a hot dog encased in bagel pastry, while a corn dog is the same dog coated in cornmeal batter, deep-fried and usually served on a stick.
Be warned that even the lowly sandwich can throw a curveball when attempting to feed American kids. Not so very long ago, I made my son's friend a cheese and ham sandwich, as requested. Unfortunately the sandwich was deemed inedible because I had spread margarine on the inside slices of the bread; the kids was simply not used to a sandwich including margarine and nothing, but nothing, would persuade him to try it.
Fortunately, unless there's a severe allergy, the humble PB&J (peanut butter and jelly) sandwich is a favorite with most kids so always keep some in stock no matter how revolting you think it is.
But never fear, we're not as rubbish on the kid-meal front as we thought; according to the European Toddler Nutrition Survey, British toddlers are the fussiest eaters in Europe, so if nothing else, we have plenty of experience to bring to the battle table.
What are your favorite kid-friendly meals to make? Tell us below:
See more:
Food Memories: What Do You Miss From Britain?
How to Host a Dinner Party in the U.S.
Choices, Choices: How to Navigate American Restaurant Menus
Food and Drink: 10 Things That Taste Different in the U.S.
Read More
Filed Under: