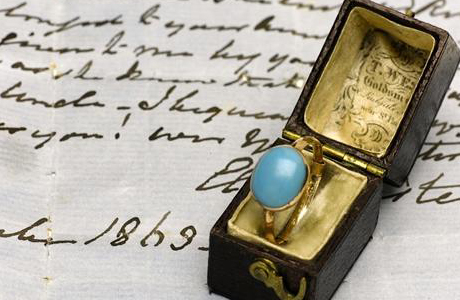 The Jane Austen's House Museum, in Hampshire, England, has been successful in raising enough funds to keep Jane Austen's gold and turquoise ring in the UK, which they lost to a higher bid at the Sotheby's auction in 2012, reports BBC News.
The museum was responsible for coming up with £152,450 by September 30, 2013 due a temporary export ban. We previously reported that it looked like the musueum was going to be able to make this happen, having been bestowed £100,000 by an anonymous donor this past August.
If you've been following the story, you already know the winning bid belonged to American singer Kelly Clarkson, of American Idol fame. While Clarkson was keen on the jewelry piece, and wore a replica ring on tour, she seems to be understanding of the situation.
The singer said in a statement, "The ring is a beautiful national treasure and I am happy to know that so many Jane Austen fans will get to see it at Jane Austen's House Museum."
The ring is one of only three known pieces previously belonging to Austen. The other two pieces currently reside at the museum.
Museum curator Mary Guyatt made it official with a statement saying, "The museum is now able to reveal that their offer to purchase the ring has been accepted." Guyatt and the museum staff were reportedly "stunned by the generosity" of contributors to the fund and those who campaigned on their behalf.
Are you happy the ring has found a permanent home? 
Read More
Filed Under: