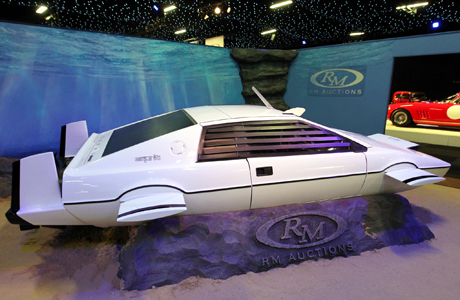 A self-propelled submarine car, known as the Lotus Esprit, which appeared in James Bond's The Spy Who Loved Me was recently auctioned off for £550,000, reports BBC News.
It was sold at RM Auctions in Battersea, south-west London, after a bidding war between an on-site bidder and a phone bidder. The phone bid ultimately won the sale.
The seller, who prefers to remain anonymous, purchased the contents of an abandoned storage bin for $100 in Long Island, NY in 1989. He was reportedly less than thrilled to inherit a car with no wheels.
The movie, filmed in 1977, used several vehicles to represent the car with others actually driving on land. While this car cannot be driven on the road, it is said to be a fully operational submarine.
Peter Haynes, from the auction house, told BBC News: "Bearing in mind it is not a car that can be driven on the road, the price just goes to prove the draw that all Bond-related memorabilia has."
You can watch the Lotus Esprit in action in the below clip where Roger Moore and Barbara Bach escape the enemy by driving off a pier into the sea:
How do you prefer to travel, land or sea?
Read More
Filed Under: