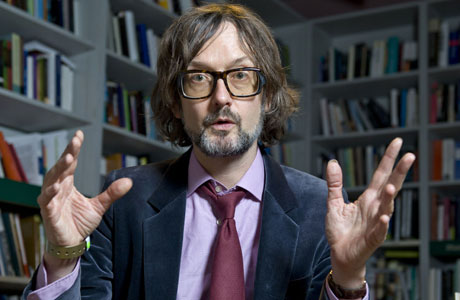 It's the very wonderful Jarvis Cocker's 50th birthday today, and if you're unsure as to who he may be, might I suggest starting here?
He's the one doing all the talky-singing:
Ever the (dirty) old man trapped in a younger man's body, in a sense he's been rehearsing for this day for his entire life. Let us only hope he spends the day doing something disgraceful.
In tribute to one of our favorite people, here are some of his finer thoughts, taken from songs, broadcasts and interviews, to form a kind of warm blanket of inspiration to carry with you for the rest of your days:
• "Never mix cider and red wine, that's one of my life lessons."
• "Boredom can be a big inspiration because you have to invent something to entertain yourself, otherwise you'll go crackers."
• "I used to look at older people who bothered to still attend nightclubs and couldn't help but wonder why. Didn't they realize how foolish they looked? Of course, now that I'm one of those people myself, I have decided that such rules don't apply to me."
• "Unless you're living on the street and surviving on a diet of discarded turkey drumsticks, there's no point in being gloomy. We've spent too long trying to cheer ourselves up by spending money on brightly coloured things we don't really need. We've stopped using our imaginations."
• "In some ways, I always thought you're better off behaving like a rock star when you're a normal person. Because if you do it as a rock star, you'll end up in the papers and your life will be made a misery."
• "Every woman I've had a relationship with has found this maddening; the fact that I will talk about anything on the stage, and reveal all this stuff, and yet when I'm at home, I clam up and won't discuss anything intimate or personal."
• "I am passionate about keeping the human dimension in things. You have to keep the rough edges and the inconsistencies, that's what makes it interesting. I've always striven to be as sloppy as possible."
• "I appreciate people who try and use language in an interesting way."
• "I'm always amazed by people who blog all the time and tweet all the time, and still get things done. I don't know how they do it."
• "Anyone who thinks they're sexy needs their head checked."
• "Noise is an easy thing to hide behind. If you make a lot of noise and shout behind that, nobody can tell what you're singing."
• "Pornography takes all the reality out of sex. and Disney does that to the family life."
• "I like bossy girls. I don't like girls who just do whatever they think you want them to do, and follow you around trying to please you all the time.
• On leaving Britain: "Marmite and mob violence – that's what I miss."
• "The things in my songs are the edited highlights of my life. I don't go seeking out strange sexual experiences every day of the week."
• "Brothers, sisters, can't you see? The future's owned by you and me.
There won't be fighting in the street.
They think they've got us beat, but revenge is going to be so sweet.
We're making a move, we're making it now, we're coming out of the side-lines.
Just put your hands up – it's a raid
We want your homes, we want your lives,
we want the things you won't allow us.
We won't use guns, we won't use bombs
We'll use the one thing we've got more of – that's our minds." – "Mis-Shapes"
• "If you give everything away then you become a kind of non-person."
• "I've got to an age where I just can't be arsed doing things that make me feel crap. So you may as well just do things that you enjoy. Say it doesn't get you a multi-platinum album, at least you had a good time."
• "I always find it very traumatic when I have to pick a new pair of glasses – it's like picking a new nose."
• THIS, on the side of the London Road student accommodation in Sheffield:
• "I got into outsider art when I was at at college. Probably as a reaction against being at art college"
• "Never trust a man who wears ankle socks"
• "Help the aged, one time they were just like you,
drinking, smoking cigs and sniffing glue.
Help the aged, don't just put them in a home,
can't have much fun in there all on their own.
Give a hand, if you can, try and help them to unwind.
Give them hope and give them comfort 'cos they're running out of time." – "Help The Aged"
• "People who make good music aren't necessarily nice people."
• On interrupting Michael Jackson at the 1996 Brit Awards: "I guess lots of people have one particular incident that overshadows just about everything else they've done in your life. Although I don't regret it as a moral action, the fact it will be the first line in my obituary is just a little bit disappointing. I'd like to think I'd given more to the world."
• "I  recently spent quite a bit of time in Sheffield, England, which is where I'm from. I wouldn't move back there, but it's funny when you spend a bit of time in the place where you were brought up. You kind of realize how that place has had quite a big effect on you or made you a certain way."
• "I was very shy with girls. I thought if I got famous then girls would approach me. And it's true, they did. But only crazy girls".
v"It was a big thing for me. I certainly didn't want to be an absent father. My father disappeared and I know the effects of that. When I met him many years later there was nothing there. It wasn't like we were antagonistic but there wasn't a feeling of love or affection and that was a bit sad. I guess I'm determined not to allow that to happen with my son."
• "I think basically becoming famous has taken the place of going to Heaven in modern society, hasn't it? That's the place where your dreams will come true. It's an act of faith now; they think that's going to sort things out."
• "If you get involved in music expecting to make a living out of it, then you've picked the wrong thing to do. That shouldn't really be in your mind."
And finally, the most apposite quote of them all:
"Its OK to grow up, just as long as you don't grow old. Face it you are young."
Read More
Filed Under: