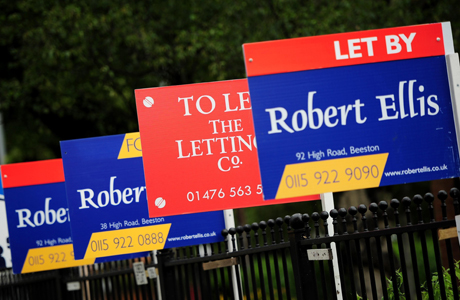 You've just had the call to say the dream job is yours. Congratulations. One thing, though: your new office is in America, so you'll need to move there. OK! But hang on: you've just bought that nice new flat, and there's no way you can afford the hefty mortgage and finance your new life in the U.S. What's a soon-to-be-expat to do?
With the U.K. property market still flat, you might decide that selling up isn't an option. Possibly your best choice is to rent out your place, so you do the thing people always do in these situations: put a "Great flat for rent!" shout-out on Facebook. But you get nothing — not even a solitary "like." What now?
Contact local estate agents. Explain your situation, then pick the least obnoxious and most sensible-sounding half-dozen to come to your house and give a valuation. Put together a long list of annoying questions and remember to include the following ones about money: if you find me the ideal tenant (someone I like who has good references and a sublime credit score), what's your fee? Will you charge me if the agreement falls through? What will I have to pay you to find me a replacement renter if my current one moves out? If I choose to have you manage the property, what will that cost? And what, exactly, do I get for the money?
Once you've given a cross section of agents a grilling, choose a couple to market your place. But be warned: even the good guys will give you the hard sell on the property management side of their business. Carefully consider whether it's worth the money. If you take the time to fix any problems with the property before you leave and pick a great tenant, you may find you can come cope with arranging minor household repairs from afar. However, don't let your agents know you're planning to DIY. They'll work harder on your behalf if they think you might also pay them to manage your property.
Don't make the mistake of thinking you can handle everything from abroad, especially if you're not planning to make regular trips back to the U,K. You will need a trusted proxy to pop by a couple of times a year to make sure your tenants haven't thrown the bath out of the window or painted the walls with sewage. For your part, make an effort to build a good e-relationship with your renter and be quick to sort out any issues they may have. Neglect to do this and you run the risk that they'll stop paying rent or give notice.
If you do decide to manage the place yourself, find a trustworthy odd jobs person who can attend to any small problems in the property. Also, take out renters and utilities insurance to cover you if your tenant stops paying the rent or the boiler breaks down.
Talk to your mortgage provider about swapping to a buy-to-let agreement. In reality, plenty of people who let a property they once lived in don't bother to do this because it's fiddly and expensive. And, in all likelihood, you won't be found out should you decide to stay on the same deal. But you are supposed to swap, legally speaking.
You'll also need to pay U.S. and U.K. income tax on any profits accumulated from your rental. So find an account who can help you with your tax returns in both countries.
Finally, find the time to check the property yourself whenever you're in the U.K., giving your renter at least 24 hours notice. Nothing inspires a tenant go to town with a Swiffer and scrape the sewage off the walls like a visit from the owner.
Read More
Filed Under: