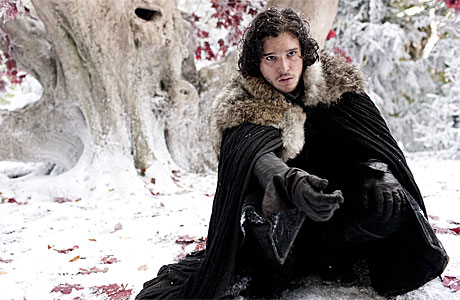 In any other TV show, if your character suffered an eagle attack to the face, and then a flurry of arrows in the back, you'd say they were unfortunate. In the notoriously gory Game Of Thrones, that sort of treatment counts as their best Christmas ever.
Not that Kit Harington, who plays Jon Snow, is celebrating just yet. He's already seen the scripts for Season 4, and has some idea of what fresh injuries await the cast. Frankly, it's going to get a lot worse.
He's promising "more deaths this season than any other," for starters, and went on to tell Access Hollywood, "I can't tell you who dies. You'd think they'd tone the deaths down, but they don't. They've realized that's a successful option, so they're just killing more people than they've ever killed."
And does this mean more trouble for his character?
"He's a bit in the wars, old Jon Snow. And it doesn't get any easier this season. It's kind of high-octane, action-packed.
But surely his beautiful face is OK?
"My face is not OK. It's far from OK! I have to have scars this season. Then obviously I've been shot in the back with arrows, so, that hurt."
Still, it's not all bad news. He can at least rock a rugged man-scar: "In the books he's got a scar that runs (down his face), and so [one] side is going to disappear, but on [one] side I'm gonna have a scar.
"I thought that would look quite sexy. They're quite sexy if done in the right way."
So that'll probably affect Jon's love life, right?
"Love? In 'Game of Thrones'? Really? You think they'd be that nice?!"
"Me and Rose, who plays Ygritte, we're as close to a love story as you get in the show. You have to follow that up and see what happens this season."
Something ghastly, I bet.
Read More
Filed Under: