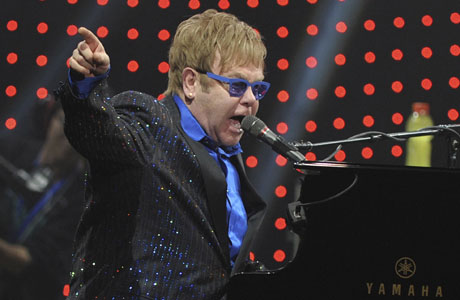 You think your week is getting off to a bad start? Not compared to this lot it isn't…
Sir Elton John – Burst Appendix
Oh sure, a burst appendix is painful, but does it really count a near-death experience? Well it does if the doctors around you are saying it's just a colon infection, and you have decided to keep working your way through it.
Sir Elton explained to the Guardian: "I did nine shows, 24 flights and played the White Tie and Tiara Ball with Coldplay, with a burst appendix. I was so lucky, because usually if it bursts, it causes peritonitis. If that happens, you have to be in hospital within an hour, otherwise you're brown bread. I'm lucky to be alive.
"They did the operation and it was not a walk in the park. They said: 'Oh, you'll be out the next day.' But it turned out to be a lot more complicated than that. I was in a lot of pain, and I was hallucinating from the morphine and the anaesthetic. I didn't sleep for four days, it was like being on speed. I was hallucinating like mad, which was, you know, amusing for the people around me."
Sir Paul McCartney – Helicopter of Doom
For such a huge fan of Buddy Holly, you'd have thought Paul would've been a little more cautious of boarding any kind of aircraft in a storm, and yet he and his wife Nancy happily popped aboard an Air Harrods helicopter last November, after attending the launch of his daughter Mary's vegetarian cookbook, in conditions that were later described by the Air Accidents Investigation Branch as "low cloudbase, poor visibility and rain."
Actually, for most of the flight everything was fine, it was only as the helicopter began the descent to the helipad at Sir Paul's Sussex mansion – which is surrounded by woods – that the pilot became disoriented by the weather, plunging towards the trees, and missing them by a matter of two feet.
They redirected to a nearby air field, and landed safely there instead.
Jason Statham – Stunt Truck Plunge
According to Terry Crews, Jason is just as unflappable in real life as he appears to be on screen, if his plunge into the Black Sea is anything to go by. Appearing on Jay Leno recently, he revealed that a stunt truck with faulty brakes while filming The Expendables 3 (oh, the irony) nearly finished both of them off:
http://www.youtube.com/watch?v=ka9ZDtCfdSU
Ozzy Osbourne – Quad Bike
Ozzy isn't the only notable Brit to have nearly come a cropper on a quad bike. The same thing happened to Rik Mayall too, and it seems a common problem is that once you're in a state of falling-off, the bike itself becomes an active participant in your potential doom.
Ozzy had been riding in the grounds of his Buckinghamshire estate, and his bike hit a pothole that was covered by leaves. He flew over the handlebars, and the bike landed on top of him, crushing his ribs and collarbone. Luckily his bodyguard Sam was on hand to administer mouth-to-mouth and call for help, as Ozzy explained to BBC News:
"If it wasn't for Sam I probably wouldn't be here. He had to bring me back to life twice."
"I'll never go near one of those damn bikes again. The thing nearly killed me. I am lucky to be here today and not paralysed."
Benedict Cumberbatch – Kidnapped
The sheer dramatic intensity of this event is so strong that it does the rounds as a new news story almost every time Benedict talks about it. The key details are that he was in Santa Lucia in South Africa, on a scuba diving trip with friends, and on the way back to the hotel their car had a puncture. As they tried to change the tyre, six men abducted them, forcing them into a car and driving away.
Benedict told the Daily Star: "I could see the headlight beams bumping over the dirt track and I thought of shallow graves."
They stopped, and tried to force him into the trunk of the car: "But I argued my way out. I said: 'If you leave me in here, it's not the lack of air, it's the small space. There's a problem with my heart and my brain.'
"I just tried to explain to them: 'I will die, possibly have a fit, and it will be a problem for you. I will be a dead Englishman in your car. Not good.'
"They shut the boot and had an argument, and then pulled me out. I kind of thank God I had the presence of mind to give them the idea that it would be better to keep me alive. And the other two hadn't been harmed."
There. Now doesn't your day suddenly feel a lot brighter?
Read More
Filed Under: