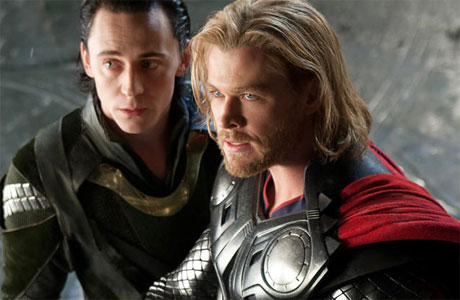 Did you get a peek at the new trailer for Thor: The Dark World when it aired this week during the premiere of Marvel's Agents of S.H.I.E.L.D. If not, we have it here courtesy of ComingSoon.net and it's full of smooching, slapping and sparring … not necessarily in that order. Natalie Portman, who portrays Jane Foster, gives Tom Hiddleston's Loki, a run for his money. On their first meeting, rather than shaking his hand, Portman slaps Thor's misunderstood step brother in the face. And we're not talking a cheeky tap. This is a full-force whack. He responds, "I like her." As we learned in the earlier films, Thor and Marvel's Avengers, Thor (Chris Hemsworth) is keen on Foster but he's busy saving the world from a primeval villain who goes by Malekith (Christopher Eccleston). See who else makes an appearance in the TV trailer and where and when the story takes place:

Thor: The Dark World will hit theaters on November 8, 2013 in the U.S.
Are you a fan of the Thor series?
See More:
Tom Hiddleston Acts Out 'Thor 2' with Action Figures
First Look: 'Thor: The Dark World' Poster
A Guide: Who's British in American Fall TV?
Read More
Filed Under: