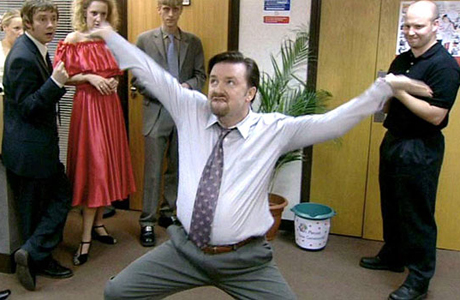 Like many recent graduates, Alan Bacon, 21, finds himself spending most of his time slinging resumes in an attempt to secure a job. He was extremely excited when he learned he had earned an interview at the electronics store Currys in Cardiff, Wales. The interview took a turn when the interviewees were split up into two groups and asked to design and perform a dance, reports BBC News.
Bacon said, "I ended up dancing to 'Around the World' by Daft Punk, doing rubbish robotics in my suit in front of a group of strangers." He felt like he had found himself on a sitcom saying it felt "like a scene out of The Office."
Currys said that this was not a typical part of the formal interview process but this individual store was making an attempt at team building. Possibly the recruiters thought they were on a television show but in their case it was The Apprentice, where we see candidates taking place in challenges? The store has issued an apology and is currently looking into this specific situation, explaining that all the prospective candidates are welcome back for a proper interview.
Bacon has politely declined the invitation.
Lottie Dexter is the founder of Million Jobs, which works on behalf of unemployed young people, and when talking to BBC News she noted companies were thinking of out-of-the-box ways to interview people.
She admits, "This is one of the craziest and most outrageous I've heard about."
In terms of team building and role playing, she suggests that this may have been an attempt of "loosening people up" and "taking them out of their comfort zones."
At the end of the day, it's not fun to leave an interview, especially one you were really looking forward to, discouraged after finding out it wasn't what you were expecting.
Would you be offended or lace up your dancing shoes?
Read More
Filed Under: