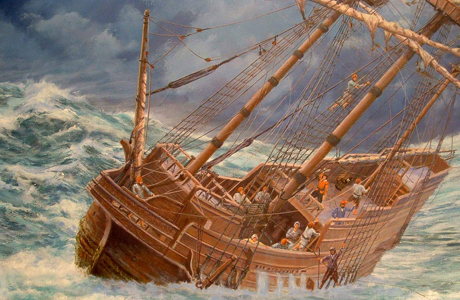 Early British settlers flocked to the U.S. to find wealth and/or religious freedom. These days, America is just as alluring to Brits with about six percent of us saying we'd like to live here and around 700,000 of us currently doing so. But the reasons we migrate across the Pond have changed.
To work
Fortunately, many U.S. employers are prepared to jump through expensive, pernickety hoops to secure the services of talented foreigners. And Brits are particularly appealing because they're already fluent in American.
To study
Many degree courses in the U.K. include modules in the U.S. And since the British government lifted the cap on tuition fees, students increasingly struggle to find a reason to confine their course search to the U.K. Now, more than ever, Brits are looking to sign on with foreign universities, including ones in America. In 2011, almost 9,200 student attended universities in the U.S. However, studying in the U.S. doesn't come cheap, and candidates will need to sit American SAT.
Love
When besotted couples live on opposite sides of a big ocean, it's usually not long before one half decides they're prepared to migrate to be with their beloved, permanently. But be warned. Unless you're willing to marry your American squeeze, you won't be entitled to stay in the US any longer than a regular tourist, so up to three months at a time.
To escape the British weather
While no one is going to grant you a U.S. visa on the basis that you find the climate at home life-endingly depressing, it is what gives many Brits the impetus to emigrate. Handily, America boasts many regions with year-round sun and, should you find this doesn't entirely fix your British blues, a more open attitude towards therapy.
To escape family
When even a move to the outer-most boundaries of Europe just won't put enough distance between you and the mother-in-law, America is a great solution. It's closer than other non-EU spots British emigrants chose to live in, like Australia. So you can still be home in under half a day if duty calls or you get an unmanageable craving for a proper bacon sandwich.
To get more living space
Forget idiots like me who chose to relocate to NYC, where an average property costs more than a Scottish castle. Most British immigrants to the U.S. are pleasantly surprised by how much square footage you get for your cash compared to the U.K. Not convinced? Two minutes of research revealed that for the price of a three-bed semi in Hull, you can buy a four bedroom, 3000 square foot beast of a house in Dallas.
To retire
Lots of older Brits dream of living out their last few decades under the American sun, although unfortunately there's no such thing as a U.S. "retirement visa." Your best option, if you happen to have an American-born child over the age of 18, is to get him or her to sponsor you. Failing that, you'll need to see if you qualify for one of three visa categories popular with retirees.
To travel
Gap year Brits still covet time in the U.S., not least because it's a convenient jumping off point for exploring South and Central America. Although longer-term visitors — even students on temporary work visas – can't claim to have officially "lived" in the U.S., they'll probably feel like they have.
Why'd you come to the States, British expats? Join us Wednesday, September 11 at 2 pm/et on Twitter for a discussion of things we *don't* miss about the U.K. Follow @MindTheGap_BBCA and tweet us using #MindTheChat.
Read More
Filed Under: