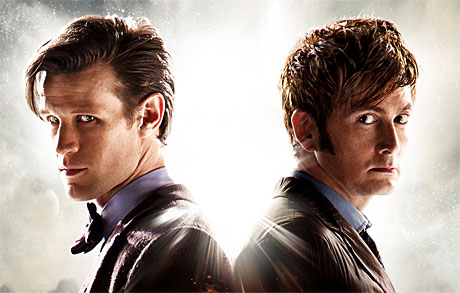 For Whovians of every stripe, the biggest event of the week has to be the big reveal of the posters for the 50th anniversary special, as well as the the running length of the 50th anniversary special (76 minutes), and most importantly, the name of the 50th anniversary special: "The Day of the Doctor"*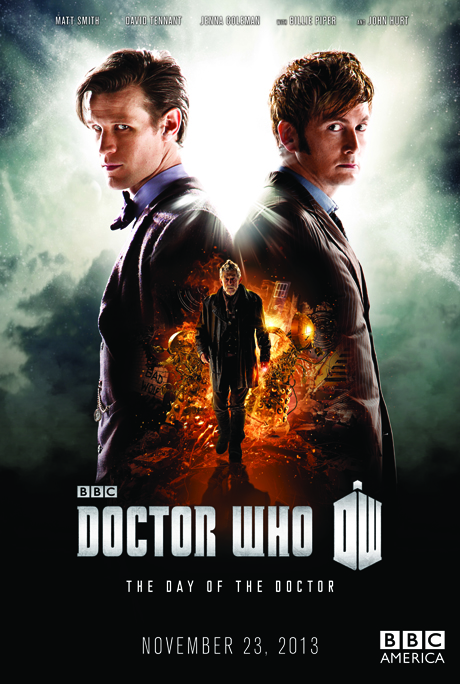 This coincides with the arrival of a few extra emerging details, that paint November 23 as an astonishingly rich time to be a fan of Doctor Who.
• There's a ton of new Doctor Who merchandise on the way…
• Then there's this quote from Peter Davison, from the sofa of the ITV breakfast TV show Daybreak: "I've heard lots of rumors, none of which I'm allowed to tell you anything about. I'm privy to them actually."
"I have got a copy of the script, which has got my name embossed across it. So it's top secret."
Here's the interview:
• Following Peter's comments, there was a minor kerfuffle across social media when some pictures emerged of Tom Baker in a long scarf, with a film crew and a TARDIS. But it's been suggested that the filming was for a skit for the satirical panel show Have I Got News For You.
• Tom does, however, appear alongside the other five surviving Doctors from the classic series, on the cover of this month's Doctor Who Magazine:
And this is just the tip of the iceberg; can you imagine how exciting it's going to be around here from Halloween onwards?
Here's what else is going on in space and time this week:
• Steven Moffat has already been referring to Matt Smith's final days on set, telling Entertainmentwise that he is bowing out "at the height of his powers in the part," and keeping everyone's energy up with his boundless positivity:
"It's hard to let go, watching him on set yesterday (Sunday) and he's so heartbreakingly good. You get all excited about the new Doctor and then you go back and you see Matt on his first day back on set and you think 'oh my God that's what we're losing.'"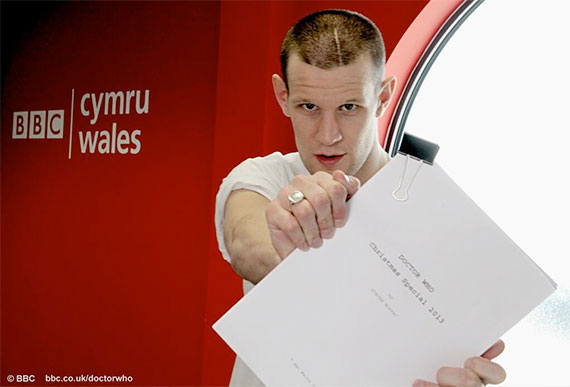 He concludes: "He's so brilliant and he's at the height of his powers in the part, he's so funny, so clever, so inventive."
• This is not a toy: the same company that made those sonic screwdriver remotes is painstakingly putting together a replica of the Tenth Doctor's blue sonic, modeled on David Tennant's personal sonic.
• Russell Tovey is looking forward to Peter Capaldi's arrival: "He's absolutely the Doctor. He's slightly scary, an incredible actor, very kind of timeless, kooky – he's everything the Doctor should be."
• Fancy a refrigerator designed to replicate the TARDIS? Of course you do.
• Some astonishing fan-made art here from sheWolf294:
• The soundtrack for the two Christmas specials "Snowmen" and "Widow Christmas" will be released in October 21.
• WhatCulture's 12 scariest episodes of Doctor Who ever.
• Whereas the Guardian is steadily working through a list of the best episodes of all time.
• And Den of Geek insists that these are the ten best Dalek stories.
• What would it look like if the Eleventh Doctor's speech in "The Rings of Akhaten" were delivered by the Sixth Doctor?
http://www.youtube.com/watch?feature=player_embedded&v=sx9P5pFxs_c
• Karen Gillan's latest movie Oculus has premiered at the Toronto International Film Festival.
• The British Film Institute is hosting an event called Doctor Who at 50, and will welcome guest appearances from both David Tennant and Catherine Tate.
• Professor Brian Cox has been examining the scientific possibilities that Doctor Who plays with, and whether they have a basis in scientific fact. Apparently they do.
And while we're on the subject:
• Seven Science Lessons from Doctor Who.
• The DVD release of the Second Doctor's first tussle with "The Ice Warriors" gets a forensic examination here.
• Let's end with another amazing piece of fan art. You'd have to say the person responsible for this masterpiece has really gone to town. Not only have they worked in a little TARDIS motif into this landscape, they have also gone back in time and forced the actual Vincent Van Gogh to paint it 80 years before the concept of a TARDIS even existed.
It's a kind of temporal, historical (and characteristically Whovian) Where's Waldo?
TTFN!
* Of course, as far as Anglophenians are concerned, every Tuesday is the day of the Doctor, but that's just nit-picking.
Read More
Filed Under: