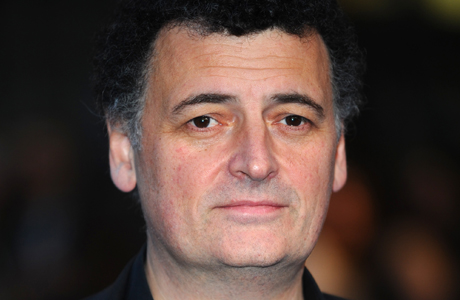 Last night, Doctor Who won two trophies at the TV Choice awards, and Broadchurch (which we're counting as a Whovian endeavor) scooped up two more. Practically a clean sweep.
Doctor Who won in the Best Drama category, and was given the Outstanding Achievement award in recognition of 50 years of good work across all of space and time.
Steven Moffat told reporters at the ceremony, which took place in London's Dorchester Hotel, that he is delighted to not only win, but be placed among the very best of British drama: "It's so great to win these awards. We were up against some very. very good shows. It would've be no shame had we got beat."
Meanwhile Broadchurch won the Best New Drama award, and David scooped the Best Actor trophy for his portrayal of Detective Inspector Alec Hardy.
David's co-star (and fellow Who alum) Olivia Colman was nominated for Best Actress, but was beaten by Miranda Hart, for her part in Call The Midwife.
Here's what else is going on in space and time this week:
• Matt Smith appeared on the ITV show Daybreak for about 20 seconds, talking about wigs:
• And while we're discussing wish fulfillment, there was quite the kerfuffle in the Doctor Who fan community when Catherine Tate expressed a wish to return to the role of Donna Noble. It's fair to say people are keen.
• Matt has also taken care to ensure that everyone knows he believes Peter Capaldi will play the Twelfth Doctor "brilliantly."
• Still love this: the Doctor Who tube map.
• A properly fascinating interview with Arthur Darvill, concerning The Lightning Child, the musical he has written for the Globe theater in London.
• Armando Iannucci, the creator of The Thick of It, Peter Capaldi's most notable role to date, says he'd very much like to write a Doctor Who episode.
• Here's a lovely John Hurt interview, in which he praises the Whovian community (Earth division) for welcoming him aboard, and adds: "I had no idea that Doctor Who had got so huge; I just thought, 'Brilliant, I'll be a Doctor!' I was suddenly – what do they call it? You start "trending". This is all new to me!"
• Ten examples of amazing symbolism in Doctor Who, according to What Culture.
• What Culture's ten memorable Doctor Who episodes and the questions they leave behind.
• There's been a poll of Doctors on Digital Spy, and David Tennant's Tenth Doctor is the outright winner, with an astonishing 50% of the vote.
Just for that, here are some clips:
• The Eleventh Doctor's six most spine-tingling moments, according to What Culture.
• Dust off those rhyming couplets, there's a crowdfunded Doctor Who poetry book in the works.
• In one of those astonishing character notes that truly transforms the relationship between actor and character, it seems that Wilfred Mott's army record, as discussed in "The End of Time," was not originally in the script. When the enigmatic woman coldly says "you never killed a man" and Wilfred snaps "No, no don't say that like it's shameful," the exchange is based on Bernard Cribbins' own experiences in the army in the Second World War.
• David Tennant's portrayal of Richard II for the Royal Shakespeare Company is set to appear in U.S. cinemas from December 3. Check local listings for details.
And if you're itching for something to watch between now and then, or short of Christmas present ideas (yep, it's coming up faster than you'd think), there's a limited edition Doctor Who Series 1-7 Blu-Ray Box Set, complete with Eleven's sonic screwdriver, exclusive comic book and THIS photograph:
Let's leave this week's roundup on a constructive note. Here's a timelapse video, showing how the First Doctor's TARDIS console, recreated for An Adventure In Space And Time, was rebuilt at the Doctor Who Experience in Cardiff:
TTFN!
Read More
Filed Under: