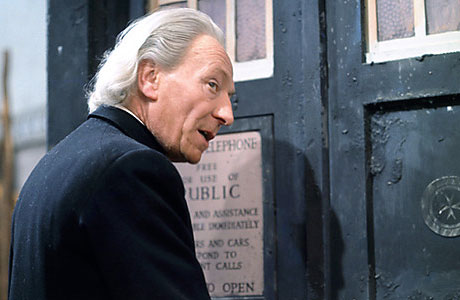 Let's begin this week's gatheration of Doctor Who-related gubbins with a pause for thought.
As this tweet points out, we are now past 50 years since Doctor Who first began filming:
On this day 50 years ago, filming began on a new BBC TV Series called Doctor Who… pic.twitter.com/dRLOKszIEM

— Doctor Who Official (@bbcdoctorwho) September 19, 2013
So a line has been crossed, we're now properly into 50 years of biffing around space and time with an enigmatic stranger, and that's a ridiculously long time. In the 50 years before "An Unearthly Child," there had been two World Wars, a roaring Twenties, a Great Depression, rock 'n' roll, the arrival of this thing call the "teenager" and the introduction of these interesting blue police boxes to British city streets.
In the years since, we've had a swinging '60s, hippies, punks, yuppies, ravers and goths, Watergate, Vietnam, the civil rights movement, a man on the moon, the internet and that blue box design has served more years as a (time and) spaceship than it ever did as a phone booth.
Who knows (pun intended) what will have happened by the time we get to the full century?
And on that note, here's what else has been going on in space and time this week:
• You can't beat a good opening credits sequence, especially one as imaginative as this, from YouTuber billydakiduk:
• What if the Doctor made a visit to the Disney dimension in search of a new companion? Karen Hallion has the answer (via Buzzfeed).
• Doctor Who meets Hulu (and becomes Doctor Hulu!)
• Radio Times interviews Don Smith, the man who took the pictures at the first ever Doctor Who photoshoot.
• The New Zealand Mint has created a gold Doctor Who 50th Anniversary Coin. It looks like this.
• Doctor Who (and Sherlock and Merlin) shooting locations revisited with an iPad.
• Every single Doctor Who episode condensed into one hour, and then performed live in Sydney, Australia.
• Digital Spy continued their countdown of adventures with a look at the Third Doctor's battle with dark forces, "The Daemons" and the First Doctor's foray into the South American jungle, in "The Aztecs."
• Steven Moffat's acceptance speech from the TV Choice awards, where Doctor Who had won two trophies, is rather good:
• Den of Geek picked their top 10 Cybermen stories.
• They also review Charlie Higson's Ninth Doctor short story, The Beast of Babylon.
• Eaglemoss has released details of the first 23 action figures in their new Doctor Who Figurine Collection.
• What Culture have been having a think about how Jenny, the Doctor's cloned daughter, could be reintroduced to her dad.
• And they offer five reasons to watch classic Who, and 10 forgotten stories that are as good as the classics.
• Here's a cool video of someone learning to do special effects by using Eleven's sonic screwdriver.
• Billie Piper has been added to the cast of Showtime's Penny Dreadful (along with fellow Who veterans, Timothy Dalton and Helen McCrory).
• She's also set to appear in Foxtrot, a Sky Arts production about a bungled heist, co-starring Ben Whishaw and Lindsay Duncan.
• Let's end with a song; something that is new to us, although it's been around a while.
Have you seen Doctor Who: the Musical by AVbyte? Rather good:
I know, right?
TTFN!
Read More
Filed Under: