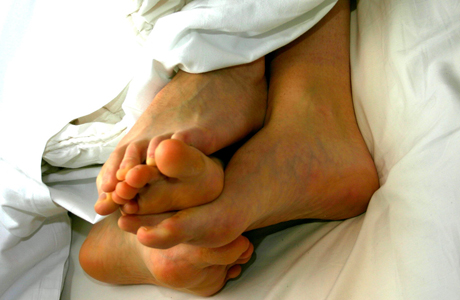 As part of its Campaign for Real Sex season, Channel 4 will be airing a one-hour television program, called Sex Box, to air at 10pm, after the watershed, on October 7, reports BBC News.
The show's title gives a literal explanation of what to expect, a couple will enter an opaque, soundproof box where they do the deed. If your jaw is currently on the ground, please take note, the box will not be filmed and there's no nudity or sexual scenes.
While the couple is in the "sex box", a panel of experts – relationship advisor Tracey Cox, sex columnist Dan Savage and author Phillip Hodson – will bring the viewing audience up to speed on the couple's relationship.
There are three couples who will take part in this experiment including: 1) Childhood sweethearts Lynette and Des who are now engaged to be married; 2) 20-somethings Rachel and Sean; and 3) Long-term partners Matt and John.
When each couple comes out of the box they'll sit down with Mariella Frostrup, the Observer's advice columnist, for a post-hook up Q&A.
Frostrup told The Guardian, while there may be some naysayers, she hopes the program will result in a "mature, intelligent discussion" about modern day sex.
This brings to mind, Showtimes's Masters of Sex starring Michael Sheen and Lizzy Caplan. In the show's teaser it's just that, two experts, Masters and Johnson, watching a couple engage in sex through a glass window, strictly for scientific purposes, and then analyzing the outcome. Here's the trailer:
Ch4's aim is to examine real sex, between real partners and "reclaim sex from pornography."
Like George Michal summed up in the 1980s, "Sex is natural. Sex is good. Not everybody does it but everybody should. Sex is natural. Sex is fun. Sex is best when it's … one on one."
What do you think of the concept? 
Read More
Filed Under: