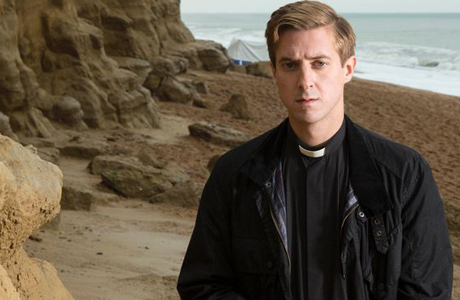 Broadchurch, the seemingly quiet beach town in Dorset where BBC America's 8-part crime series of the same name is set, is turning out to be a regular little Peyton Place. Everyone, and we mean everyone, seems to be harboring a shameful secret.
In the show's sixth episode, Detective Inspector Alec Hardy (David Tennant) and Detective Sergeant Ellie Miller (Olivia Colman) are still hard at work trying to figure out who strangled 11-year old Danny Latimer, a local youth, and left his body on a beach. This, despite the fact that the tabloids have taken to asking in headlines if Alec is "the worst cop in Britain?"
The two cops, along with nearly everyone else in town, head to the local church for the funeral service for Jack Marshall, the local news storeowner. Jack had killed himself at the end of the previous episode after the town turned on him when it was revealed that he had done time years ago for having sex with a minor. (He later wed the girl and had a son, but the boy died in a car accident and the marriage ended, leaving Jack bereft).
At the memorial service, Rev. Paul Coates (Arthur Darvill), the local minister, praises Jack, calling him a good and an innocent man who unfairly became a focal point for the town's rage. "We weren't there when he needed us.  If we are not a community of neighbors, then we are nothing," he preaches.
Afterwards, everyone migrates to Jack's wake. "Do you think the killer is here?" Ellie asks Alec as they look out over the crowd.
"Good chance," he replies. Though other wake attendees seem not to notice, Alec soon grows feverish and weak. It is clear that whatever chronic illness he's suffering from–viewers are still in the dark as to his diagnosis–it's getting worse.
At the wake, Ellie's son Tom (Adam Wilson) lashes out when Chloe Latimer (Charlotte Beaumont), Danny's teenage sister, refers to him as Danny's best friend. "Why does everyone keep saying that? I'm not his best friend. I hated him and I'm glad he's dead!" Tom yells, though only Chloe and her beau, Dean Thomas (Jacob Anderson), witness his outburst. What's up with all that rage?
If this were an old movie, there would be a montage of calendar pages turning to indicate the passage of summer and arrival of fall. Instead, viewers see the trees have turned red and yellow and leaves trickle down. It's now eight weeks since Danny's murder and Alec and Ellie still haven't solved the case. Their resources and manpower have been reduced  and they're getting pressure from above and in the community to name a suspect.
At a local skateboard park, Tom is happily zooming about before school with classmates while Joe (Matthew Gravelle), Ellie's househusband spouse, and their new baby watch. Ellie stops by on her way to work for a quick visit. She tells Joe that the longer the murder investigation goes on, the more she finds herself suspecting everyone. Joe jokingly asks if she suspects him, too. "I am available for vigorous questioning in our bedroom every evening," he volunteers. "You might want to bring your handcuffs." Ellie laughs and gives him a wifely peck.
Over at the Latimer house, the family is trying to get back to normal. Chloe returns to school while her father, Mark (Andrew Buchan), resumes his job as a plumber. Beth (Jodie Whittaker), Danny's grief-stricken mother, says she's not ready to go back to work yet.
At the police station, Alec and Ellie catch each other up. He tells her that he learned that Rev. Paul, who's a potential suspect, attends AA meetings. Ellie's info is that the final report on possible evidence found in a burned boat shows positive matches for both Danny's hair and paint chips from his still missing skateboard. Also, traces of a household cleaner, the same one found on Danny's corpse, were on the boat. "The killer was improvising," says Ellie.
Alec and Ellie summon Olly Stevens (Jonathan Bailey), the young local newspaper reporter. The boat belonged to Olly's father before he skipped town some years ago. Now Olly and his mum, who is Ellie's sister, often loan it out. Olly tells the cops that, some months ago, he, Tom and Joe, Danny and Mark, and Mark's plumbing assistant, Nige Carter (Joe Sims), all piled into the boat to travel to a nearby coastal town to play paintball. News of this all-guy jaunt comes as a surprise, and a seemingly unwelcome one, to Ellie. Olly also tosses in that Rev. Paul once borrowed the boat a year ago.
When they question Rev. Paul about the boat, he tells the cops that he went fishing but caught nada. Alec presses him about AA and asks whether he was drinking on the night of Danny's death. Mightily offended, Rev. Paul says he hasn't had a drink in more than 400 days. "Is he always this objectionable?" he asks Ellie, indicating her partner.
Ellie nods, adding almost fondly, "He's excelling himself today."
Alec orders the minister to come by headquarters to provide a DNA sample.
At her school, Chloe feels as if her classmates all view her as an object of pity. Ditto for Mark, who finds himself repeatedly having to assure Nige and clients that he's all right.  Meanwhile, Beth, who's gone for a jog, has to stop mid-jog for a crying jag.
After her jog, Beth meets at a pub with Cate Gillespie (Amanda Drew), the mother of one of the girls who died in the much mentioned but never fully explained Sandbrook case. Karen White (Vicky McClure), the big city reporter who parachuted into Broadchurch to cover Danny's death, has arranged the meeting at Beth's request. Cate warns Beth against Alec, saying he screwed up the Sandbrook case. "That man is toxic. They lost evidence. My daughter's killer is still out there because of that man," she says. (We viewers still don't know what exactly went wrong with the Sandbrook or whether Alec truly is to blame.)
Beth asks Cate how one goes on living after having lost a child to murder. Cate says there's no escaping the pain, that it's always with you. She paints a bleak picture, explaining that her marriage ended and most days she just sleeps, watches TV, drinks too much and cries. "The best part of me was killed that day and I can't get back," she says. "I'm sorry. Maybe you'll do better than me." Beth looks unsettled.
Tom sidles up to Rev. Paul, who was the technology advisor to Tom and Danny at their school or the Sea Brigades, or something like that. Tom wants to know, "If someone accidentally deletes something from a hard drive, is it gone forever?"  The minister tells him, good news, there are recovery programs and an expert could grab the files back. Tom is not happy to hear this. (Viewers saw Tom delete text messages from Danny and files on his computer in the first episode; we've yet to learn their content.)
Chloe leaves school in the middle of the day. Beth and Mark find her with Dean in a room at his farm that he has fixed up for her. She tells her parents that she can listen to music there and get "a break from being sad, a break from being the dead boy's sister." Beth and Mark tell her they understand.
Alec swabs the inside of Rev. Paul's mouth for a DNA sample and then verbally needles him about substituting religion for booze and being a publicity hound after Danny's death. "You have no concept of faith, do you?" the minister asks. "People turned to me. They needed me. You do not get to belittle my faith just because you have none."
Maggie Radcliffe (Carolyn Pickles), the veteran editor of the local newspaper, is still digging up dirt on Susan Wright (Pauline Quirke), the suspicious-acting curmudgeon from the trailer park who earlier had threatened the editor. Maggie enlists junior reporter Olly's help. "We'll be like Woodward and Bernstein," she tells him.
"Who are they, like Morecambe and Wise?" says Olly.
"God, I hate the young," mutters Maggie. (FYI, Eric Morcambe and Ernie Wise were a much beloved British comedy duo who performed together from 1941 to 1984.)
Alone in his office, Alec phones his adolescent daughter, reaching her voicemail and leaving an extended message, ending with, "I love you darling. Please give me a ring." Uh-oh, he's looking sick again.
Tom runs into Susan, who's walking her dog, Vince, on the beach. She invites him to her trailer and viewers think something awful is going to happen. Instead, the two have a cozy chat and, upon learning his mum is a detective on the Danny Latimer case, Susan opens a locked closet and takes out the skateboard that Danny was riding on the night of his death, for which the cops have been searching. "If you were a friend of his, then I think it's only right that you have it," she tells Tom, handing it over.
Clearly, Susan intends for Ellie to discover the board. Mission accomplished. When Tom proudly shows off the skateboard back at his house, Ellie tells him, "Put it down, really, really gently. You won't be in trouble if you tell me the truth. Where'd you get that?"
Susan arrives at the local newspaper office to meet with Maggie, who had left an envelope containing apparently incriminating information about Susan's past taped to the door of Susan's trailer.  Maggie tells her, "I did a little digging on you with friends in low places. I know about your husband and your children and what was said but never proved about you." Susan looks at a newspaper clipping that Maggie puts in front of her. (Viewers can't quite read the headline; I say this as someone who repeatedly hit the pause button, fruitlessly attempting to get a better look.) Clearly, is not going to spill the beans to Maggie about her unsavory past. No problem. Maggie dials Ellie.
Ellie and Alec and a gaggle of cops, having failed to nab Susan after bursting into her trailer, now rush over to the newspaper office to collar their new prime suspect. As Susan is led away by the cops, an impressed Olly tells Maggie, "You're awesome."
"I know," she replies. "Watch and learn."
Upon leaving the newspaper office, Susan discovers that her dog, Vince, whom she had tied to a pole in front, is missing. She goes berserk.
Beth, Mark and Chloe visit a gaming arcade at a seaside pier, enjoying a family outing for the first time since Danny's murder. As they all afterwards contentedly munch on fish and chips, the pregnant Beth muses, "We'll have to bring the baby here when it's born." It's the first time she has indicated that she intends to keep the child. Things may finally be looking up for the Latimers.
Alec grills Susan, demanding to know what she was doing with Danny's skateboard. She refuses to talk until she knows that her dog is safe. Frustrated, Alec and Ellie leave the room. "Find her bastard dog! Now!" Alec barks.
Poor Vince has been dognapped by Nige, who spotted the canine tied up while Susan was meeting with Maggie. We know from earlier episodes that Susan and Nige are complicit in some sort of dirty business. He has spirited the dog away in his van and now, having stopped in a quiet rural spot, menacingly aims his crossbow at the creature. Viewers are left to assume Nige pulls the trigger.
Later that night, Mark drinks a beer in front of his house. He looks unsettled, despite the happy family times earlier in the day. He starts walking in the opposite direction from his front door.
Tom is bashing his laptop with a rock in a woods near the church. Rev. Paul, out for one of his nocturnal strolls, sees the boy. "What are you doing?" the minister asks.
Ellie and Alec, both still in the office, receive word that some one has broken into the house on the cliff overlooking the murder site. They rush over and a dark figure comes dashing out of the house carrying a flashlight. The detectives give chase, pursuing the figure down to the nearby boat yard.
Ellie pauses briefly to answer her ringing cell phone and gets knocked over by someone speeding by her. (I think it was Alec but it may have been the suspect. Again, I freeze-framed this multiple times and still couldn't tell. Readers, please feel free to pipe up in the comments section about who it was.)  While pursuing the suspect, Alec collapses. He's on the ground, gasping for air, staring sightlessly and obviously in a bad way. Ellie kneels beside him, trying to help. An ambulance is on its way.
The final credits roll.
Just two more episodes to go …
Who's your favorite character on Broadchurch and why?
Read More
Filed Under: